Constable Davis Takes Pct. 2 Crime Personally
Burt Levine | 4/9/2014, 10:05 p.m. | Updated on 4/9/2014, 10:05 p.m.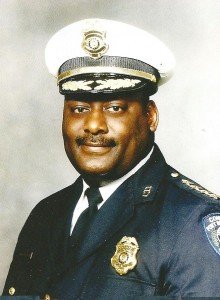 Fort Bend Constable Ruben Davis told attendees at a town hall meeting Monday in Quail Run he knows crime is up and he's as angry if not more angry than anyone. He said he's so irritated by the rise he's offering his mobile phone number (832.444.5353) to the public to call him personally if city police don't respond as fast as citizens think they should.
"My wife and I live in this community and have for many years. My children grew up in this community and graduated from the local schools here. We attend church here, shop here and are impacted by what happens here. I also, before I was appointed and then elected constable for the first time nearly 18 years ago, was a Houston Senior Police Officer that retired from HPD after more than 21 years of honorable service," said Davis, who at HPD trained its current Police Chief Charles A. McClelland, Jr. when McClelland was a rookie.
"I know the police chiefs in Houston, Missouri City, and Stafford and the Fort Bend County Sheriff. I know the Fort Bend County Judge and the Mayors of Houston, Missouri City and Stafford. If you call any officers from any of those offices or my local office at 281.403.8010 and don't get a satisfactory response then call me and I will ensure your concerns are met," he said.
Davis, Fort Bend County's only African American elected law enforcement professional, is a graduate of the University of Houston with a degree in Criminal Justice and a graduate of Prairie View A & M University with a Master's degree in Counseling. He and his wife Sharon are proud parents of two grown daughters.
"Public safety begins first with you protecting your home, yourself and your family. If you see anyone in your neighborhood that should not or previously wasn't there please call your local police or call us. It is critical that you call and keep calling because it is by you continuing to call us that we will combat the crime, kick out and keep it out of our community and receive more resources, human and material, from commissioners' court as needed if we hear from you our constituents," Davis said.
He handed out packets that emphasized tips such as always locking your door, investing in increasingly inexpensive high security locks, solid entry doors and laminated windows.
"I encourage everyone to invest in installing bright outdoor lighting with motion detection so you know when someone is coming onto your property and you know what they are doing on your property. I suggest trimming your bushes and trees so bad guys can't hide and so branches don't block lighting and finally if you suspect an intruder is in your home do not enter but call us and we will secure and apprehend," Davis continued.
"We must work to make this the best community for all," he said.