it gets better, a Musical About Bullying that Offers a Message of Hope, will Make its Houston Debut Friday, May 2, Presented by Society for the Performing Arts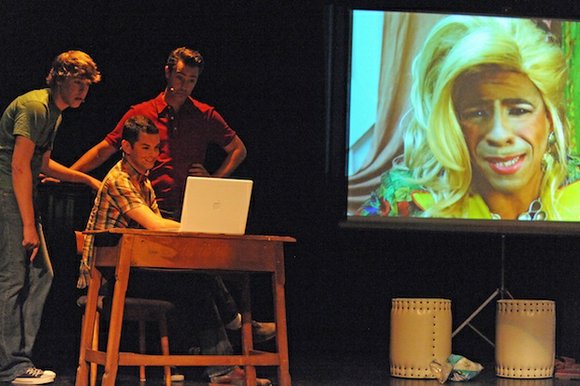 HOUSTON (April 9, 2014) –Society for the Performing Arts, Houston's leading performing arts presenter, will welcome the Houston debut of the theatrical production it gets better, Friday, May 2, 2014, at 8 p.m. in Jones Hall. A collaboration by Los Angeles' Speak Theater Arts, the Gay Men's Chorus of Los Angeles (GMCLA) and the It Gets Better Project, the Houston performance is in partnership with Legacy Community Health Services, The Montrose Center and Bayou City Performing Arts. In addition, a weeklong series of public and private outreach events will be taking place throughout the community leading up to the performance.
Written and directed by Speak Theater Arts' Liesel Reinhart, it gets better is infused with the dynamic musical energy of the GMCLA. The musical provides a performing arts response to the difficult issue of bullying, one of the most challenging issues among today's young adults and adolescents. The performance includes original music sung by the chorus, as well as well-known pop songs such as Kelly Clarkson's "Stronger," Christina Aguilera's "Beautiful," Cher's "If I Could Turn Back Time" and "You Have More Friends Than You Know" – a song written by Tony Award-winner Jeff Marx and GRAMMY-winner Mervyn Warren that was featured on an episode of "GLEE" in April 2013.
The cast includes six performers who explore what the promise of "better" implies for LGBT youth in regards to coming-of-age struggles such as helplessness and not belonging, as well as relationships and sexuality. Bullying – in all its forms – is addressed through music, movement and multimedia. Performers will reflect on the pain of losing young people to suicide and relate stories of their own darkest moments – and greatest triumphs. Jason Currie, Tyler Houston, Tod Macofsky, Mario Mosley, Sacha Sacket and Joshua Skidmore bring their characters to life and poignantly tell stories that are touching and emotional, yet uplifting and, at times, funny. The most powerful moments will undoubtedly be the arrival on stage of the Bayou City Performing Arts Chorale, joining the company for multiple numbers.
The It Gets Bet­ter Project was founded in Sep­tem­ber 2010, when the first it gets bet­ter video was uploaded to YouTube by syndicated columnist and author Dan Savage and his partner Terry Miller, ignit­ing a world­wide phe­nom­e­non. That video offered a des­per­ately needed mes­sage of hope to les­bian, gay, bisex­ual and trans­gen­der (LGBT) youth. It urged them to tough it out through the bul­ly­ing and other chal­lenges that con­fronted them in their teenage years, and described the pos­i­tive future they could expe­ri­ence as adults. It told them that no mat­ter how dif­fi­cult things may be today, it gets bet­ter. Today, the mis­sion of the It Gets Bet­ter Project is to com­mu­ni­cate to LGBT youth around the world that it gets bet­ter, and to help effect the changes nec­es­sary to make it so.
The inspiration for the live stage work, it gets better, began with an It Gets Better Project™ video submission by the Gay Men's Chorus of Los Angeles (GMCLA). On October 24, 2010, a large group of chorus members gathered with their friends and family at Immanuel Presbyterian Church to record a live version of Cyndi Lauper's song "True Colors"; a video that is shown as part of the performance on stage.