Houston Area Urban League and Change Happens! to Benefit from Proceeds of the 2014 MLB Beacon Awards Luncheon in Houston on May 30th
Civil Rights Game Event Will Recognize Individuals Whose Lives and Actions Embody the Spirit of the Civil Rights Movement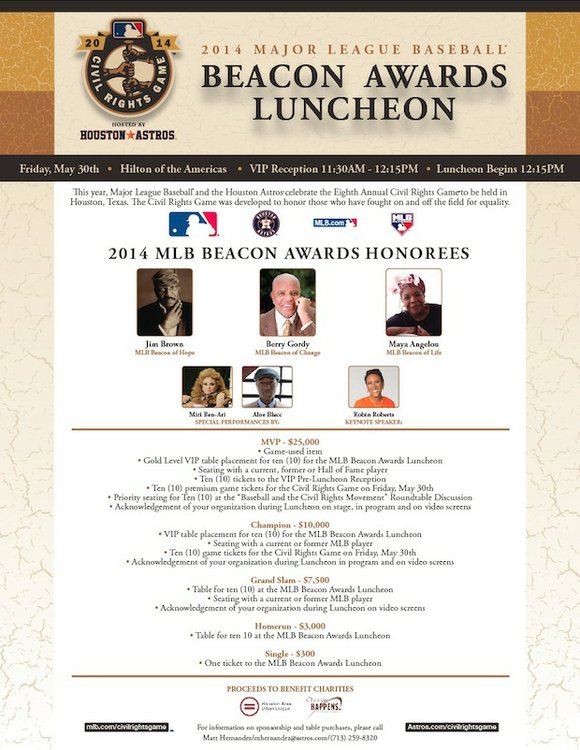 April 14, 2014, Houston, TX-Two Houston-based charities, the Houston Area Urban League and Change Happens!, will be the beneficiaries of the MLB Beacon Awards Luncheon, which is an annual Civil Rights Game event designed to recognize individuals whose lives and actions have been emblematic of the spirit of the civil rights movement. Tickets for the event, which is scheduled for Noon at the Hilton-Americas Houston on Friday, May 30th (prior to the Civil Rights Game at Minute Maid Park), are available at MLB.com/civilrightsgame and Astros.com/civilrightsgame.
This year, the MLB Beacon Awards will be presented to Dr. Maya Angelou, Berry Gordy and Jim Brown. Additionally, Robin Roberts, co-anchor of ABC's "Good Morning America," will deliver the keynote speech, singer/songwriter Aloe Blacc will perform, and Grammy Award-winning violinist and UN Goodwill Ambassador Miri Ben-Ari will perform her song, Symphony of Brotherhood, featuring Rev. Dr. Martin Luther King, Jr.'s iconic "I Have A Dream" speech.
The mission of the Houston Area Urban League is to enable African Americans and other minorities to secure economic self-reliance, parity, power and civil rights. Established in 1910, The National Urban League is the nation's oldest and largest community-based movement devoted to empowering African Americans to enter the economic and social mainstream.
Change Happens!, is one of the largest, minority-founded organizations in Houston, Texas. For over 25 years, this non-profit, community-based organization has been providing services to high-risk, economically disadvantaged and underserved populations and communities in the Greater Gulf Coast region. Change Happens! provides a variety of programs that reflect their mission to empower people to help themselves; and to promote health and wellness in youth, families, and communities.
The MLB Beacon Awards Luncheon is one of the Civil Rights Game events, which were developed by MLB to pay tribute to those who fought on and off the field for equal rights for all Americans. The 2014 Civil Rights Game will be played between the Houston Astros and the Baltimore Orioles at Minute Maid Park on Friday, May 30th, airing nationally on MLB Network.
Tickets on Sale at MLB.com/civilrightsgame and Astros.com/civilrightsgame.