Decor Score: Decorating Ideas for Today's 'Selfies'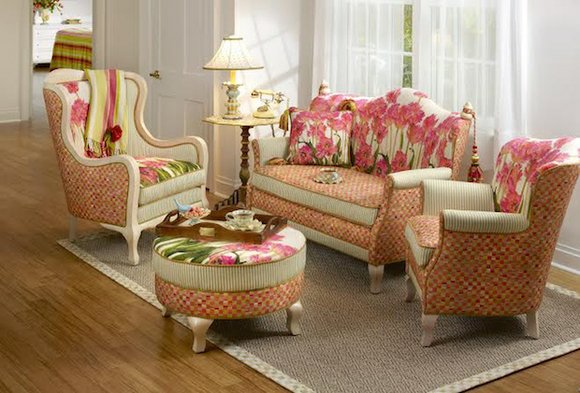 BY ROSE BENNETT GILBERT
Q: We are buying a l930s bungalow, so small and cute, a little vintage dollhouse! It would be fun to furnish it untraditionally, but I'm not sure what I mean by that. We want something different but also livable. Is this a weird idea?
A: Not weird, just very personal ... and totally in keeping with the way the furniture world is going in the 21st century. Designers and manufacturers have realized that no one wants the same-old-same-old in their homes anymore. Now, it's all about selfies, about expressing one's personality and individuality.
That said, we're still talking about livability: chairs to sit on, beds to sleep in, lamps and tables and cupboards to stow stuff in. The big difference is the "new spin" designers are putting on these essential pieces.
Take Charlotte Moss, for example. As she told the design media during this month's Furniture Market in High Point, N.C., "All these ideas have been around for hundreds of years. We just give them a new spin."
"We" included three other top designers who have been rethinking the form of furnishings: Mariette Himes Gomez, known for her calm, classic designs; Barry Dixon, who finds new inspiration from the chickens on his Virginia farm; and Alexa Hampton, heir to the talents of her late great designer father Mark Hampton, but very much her own creative person: "I am secretly very fancy," Hampton confided. "So instead of who I am, I'm designing for who I want to be."
So there: Hampton has handed you a license to be totally poetic and personal about furnishing your new little "dollhouse."
And here's one way to do it. The tulip-strewn seating group in the photo we show here is new from MacKenzie-Childs (MacKenzie-Childs.com), an unconventional home furnishings company located on a former dairy farm in upstate New York. Creative director Rebecca Procter merrily mixes an exhilarating cacophony of patterns -- stripes, checks, florals -- in a palette that can only be called fresh, vibrant and highly individualistic.
It's not for the faint at heart, but definitely for hearty individuals who love living with something "different."
Also not for the shy: the dazzling new collection by Jamie Drake for Theodore Alexander, a company long known for fine traditional furniture. Now comes Drake -- designer to such stars as Madonna and Michael Bloomberg, mayor of New York -- with ideas like his Venus sofa and chairs, bold and totally glam, with flaring wing-like arms in colors like coral. Other room-makers include the Vendome swivel chair in brilliant turquoise, a cocktail table with legs like strings of golden pearls, and a Paris-inspired console veneered in simulated Macassar ebony and gold leaf.
Then there is the ne plus ultra in individualistic expression, the Trump Home collection, inspired by you-know-who and handcrafted by the luxury furniture manufacturer Dorya International (Trump.com; DoryaInteriors.com).
Sophisticated, ultra-luxe and glitzy, with gleaming lacquers, pearlized leathers and French gold detailing, Trump Home maybe overscaled, overstated and over the top. But, oh, boy, does it appeal to the wannabe millionaires in us all!
Rose Bennett Gilbert is the co-author of "Manhattan Style" and six other books on interior design. To find out more about Rose Bennett Gilbert and read features by Creators Syndicate writers and cartoonists, visit the Creators Syndicate website and www.creators.com.