Alcoholism: Speak Up to Save a Life
Jo-Carolyn Goode | 4/22/2014, 8:54 p.m. | Updated on 4/22/2014, 8:54 p.m.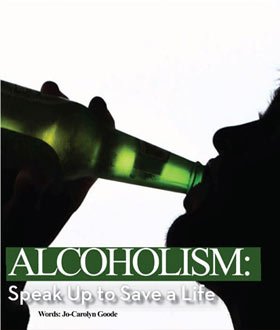 "That is the reason why the council is here. The main reason why my treatment program is here is because we do know. We know where to get the help, we know what level of care," said Fiester.
Getting Help
Treatment opinions for alcohol dependence are not black and white. Since there are numerous reasons why people drink and various levels of dependency, there are also plenty of options for treatment. "There is detox, inpatient, and outpatient, which is what we (CADH) do," Fiester expressed. Deciding on the best course of treatment will depend on the person's state of alcohol use when first seeking help. CADH gets an understanding of this through a general assessment. "We do a full battery of tests to see where they are at in the struggle from use to dependency," said Fiester. They are careful in determining treatment since, depending on your level of dependency, suddenly stopping alcohol cold turkey can kill. Usually people who are in the misuse and in the early stage of abuse categories can take advantage of outpatient services and be successful. Some forms of outpatient treatment are group therapy with others at various levels of recovery and individual therapy for one-on-one counseling sessions. Inpatient therapy is reserve for those who can't do treatment by themselves and need assistance or they are at such an acute level of dependency that they may have detox issues.
The issue of the misuse of alcohol is growing as we lose the ability to know how to cope with the trials of life. Don't let your fellow man suffer in silence. Speak up, make them aware of their behavior, and give them info on how to get help. It most certainly will help save their life and it might just save yours as well.
About The Council on Alcohol and Drugs Houston
Alcoholism, addiction, drug dependency and other compulsive behaviors are complex diseases. Fortunately, The Council on Alcohol and Drugs Houston, a United Way of Greater Houston agency, can help anyone at any time with issues related to alcohol, drugs or other compulsions. We do this through prevention, intervention, outpatient treatment and aftercare, education and outreach.
At The Council, we believe in finding solutions to effectively treat this type of disease, and we are committed to turning no one away for an inability to pay. The Council's mission is to keep our community healthy, productive and safe by providing services and information to all who may be adversely affected by alcohol and drugs. We reach people at home, at school, at work and in the community and meet individuals, families and businesses wherever they are in the cycle of addiction, from non-use, to addiction, to recovery.