Hollywood Exclusive: Mel Brooks Talks 'Blazing Saddles,' Broadway and Battling the Blues With Laughter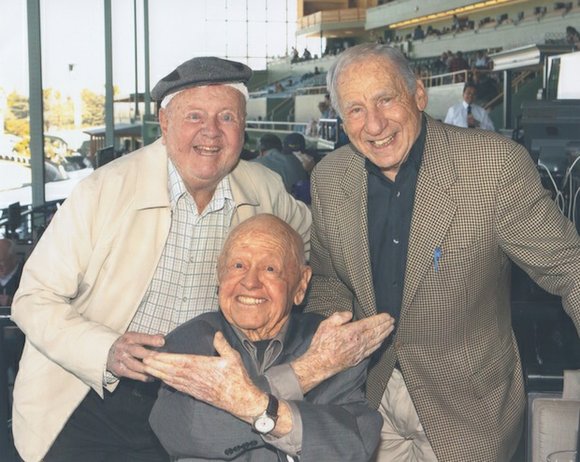 BY MARILYN BECK AND STACY JENEL SMITH
Mel Brooks' "Blazing Saddles" is the funniest movie ever made. Just ask Mel Brooks. He is quite certain of it, and of course, millions of us who can cheer ourselves up some by dropping a line of authentic frontier gibberish agree. The humor half-life of the comedy bits contained in the film is such that, 40 years later, we still laugh at the mere mention of schnitzengruben or a laurel and hearty handshake. Yes, 40 years. And on May 6, Warner Bros. Home Entertainment and Mel are commemorating the occasion with a 40th anniversary Blu-ray release of the movie, complete with a new featurette, "Blaze of Glory: Mel Brooks' Wild, Wild West." Sitting in his office, the esteemed funnyman takes time to talk about how he got away with the comedy that scared the #@$! out of Warner Bros. executives -- and gives his thoughts about Twitter, late pal Mickey Rooney and the power of laughter. What a nice guy!
Q: I wonder if you could get this movie made today. In the "Blaze of Glory" documentary you talked about the number of times Richard Pryor said, 'Use the N-word here, use the N-word there. Use it twice there ... '
A: Yeah, I didn't want to use the N-word so much, but Richard forced me to. He said something really interesting. He said, 'You know, the N-word is used properly in two basic ways: One is when bad people use it, and we're sure they are bad people because they use it. We don't want them to succeed or prosper, we want them to fail and we want the black guy to succeed because they used that word. And the second use is as a term of affection among the brothers. It made a lot of sense. I was going to use it three or four times, I ended up using it 16 or 17 times because of Richie.
Q: And you originally wanted him to star in addition to working with you on the screenplay?
A: I wanted him to be Black Bart, to be the black sheriff. But Warner Bros. wouldn't do it. They said, 'He's been taking drugs and we don't know. We don't want to take a chance.' Two years later he was the No. 1 comedy star in the country. But they wouldn't do it. So I was going to quit, and Richard said, 'Please. Direct the movie. Don't quit. We've written a great movie here, said a lot of wonderful things. If you leave, it just ain't gonna be the same movie.' So I said, OK. And when we were auditioning, you know, for our Black Bart, we both saw Cleavon Little and we jumped in the air and said, 'That's the guy!' Richard said something interesting. He said, 'I've got a mustache, and I'm coffee colored. I could be Cuban. But Cleavon is really black. He's gonna scare the s--- out of the West.'