The Crowned Series: An Interactive Event for Women
HOUSTON, TX - On May 4, 2014, the Crowned Series, an interactive networking event for women, will host its dinner edition at a location soon to be announced.
Following upon its successful brunch debut that highlighted some of the most influential women in the entertainment industry including Karen Civil and 97.9 The Box's JJ, the dinner event will spotlight leading women in beauty and fashion.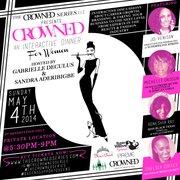 This month's Crowned dinner edition will include the following panel of industry experts: Joi Venison - CEO of Superweave Express, Michelle Okosunwhich- Owner of Preme and 2 African Girls, and Roneshia Ray - Miss Black Texas.

With philanthropy being a major focus of The Crowned Series, proceeds from the event will be donated to Mia's Closet, a local non-profit dedicated to assisting the less fortunate children (grades k-12) of the Houston area. Founder of Mia's Closet, Chelsea Coffey will use the proceeds to provide prom makeovers for four deserving young ladies.
For tickets please visit: thecrownedseries.com
For additional information contact: info@thecrownedseries.com