Steve Nash: 'I think this is my last season'
Willie Grace | 8/1/2014, 6 a.m. | Updated on 7/31/2014, 12:04 a.m.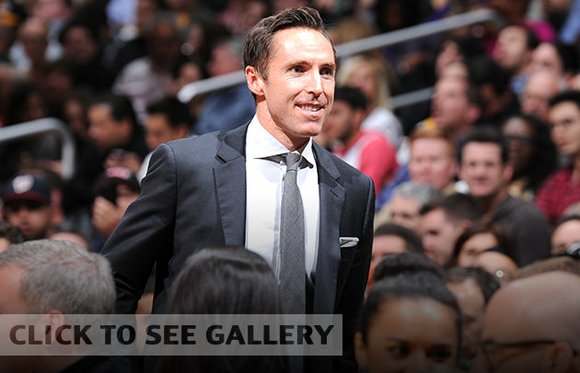 Nobody knows how Steve Nash's body will respond to the 2014-15 NBA season. We're not even sure if Steve Nash will be around for the 2014-15 NBA season, because though the move would be unlikely, the Los Angeles Lakers could waive Nash by using the stretch provision, and in reaction he may choose to retire rather than move onto another team.
Nash has hinted at as much in the past, and on Monday he also dropped hints that the 2014-15 NBA season could be his last in the league. That's a bit of an open secret, but it's still a little strange and sad to hear.
In case you can't play the video at work, here's the pull quote:
"I think this is my last season," said the 40-year-old Nash in a video posted by Sport TV. "But I still love to play, practice and work on my game. I'm going to spend hopefully many many years living this life without basketball. It'll be nice to play one more year."
Now, that's not exactly a confirmation, but it is close. The distinction, though, is that Nash himself probably doesn't know if this is his last season. It would appear that the final year of his $9.7 million contract, working in his adopted hometown of Los Angeles would wrap things up in a tidy bow, but the two-time MVP is still rightfully leaving his options open.
Steve has missed 99 games over the past two seasons, as a leg fracture suffered early in 2012-13 led to back, neck and nerve pain. A Grantland documentary profiled Nash's attempts to return to action for an injury-laden Lakers team last season, but Nash was only able to play in spurts, unable to provide even an approximation of the dominant play that marked his turns in Dallas and Phoenix.
It was rumored that the Lakers would utilize that stretch provision in order to clear immediate cap space during this offseason, knocking around $6.5 million off of Los Angeles' payroll in an attempt to lure a free-agent star. Those attempts failed, however, as the Lakers look to 2015 and beyond while working with a roster mostly made up of short-term contracts. It makes more sense, for the Lakers' immediate future, to keep Nash and pay the entirety of his $9.7 million deal, rather than having to pay off segments of it over the next few offseasons.
This is also why, following one more lousy Lakers season spent battling injuries and mentoring Jeremy Lin (who also may not be long for Los Angeles), Nash would seem to want to retire next spring at the age of 41 and move on to the next stage of his career.
He still wants to play, though. He's said as much, and nobody knows how the spring and eventual summer of 2015 are going to shape up.
Nash could rebound with a bounce-back year, another team (or even the Lakers) might be interested in his services for years beyond 2015, and he could decide to carry on. Stranger things have happened, and Nash knows this – as this was the guy many NBA observers (and even his employers) were just about writing off as he worked through heel and back injuries entering the 2000 offseason. This is the same guy that had to fight for his starting job with new Dallas signee Howard Eisley. Steve Nash has been through some stuff.