Hayes Carll and Carrie Rodriguez Contribute Photography and Music to 2014 TWELVE Project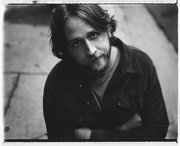 Galveston Island, Texas, August 4, 2014 – TWELVE, a photography project created in 2011 by Will Wright and Shannon Guillot-Wright, highlights the diversity of people, sceneries, and architecture in cities, as well as our diverse viewpoints on life. The TWELVE Project, now in its fourth year, is giving 12 Texas musicians the opportunity to turn their creativity to photographing life behind the mic as well as participate in a newly formed concert series that runs from September through December at various island venues.
For the 2014 TWELVE Project, a select group of musicians are, temporarily, trading their instruments for another artistic device, an Olympus Trip 35 Camera. Auction of their selected photo, and sales of concert tickets, will go towards the newly established TWELVE fund. This fund will raise money for Galveston area youth in need of financial assistance in the arts.
The initial concert, held September 6 at 7 p.m. at The Grand 1894 Opera House, will feature acoustic performances by Hayes Carll and Carrie Rodriguez. This marks the first time either artist has performed at the historic venue. Tickets range from $20 - $50. The concert series continues September 26 with performances by Joe Pug and Bo Salling at the 1859 St. Joseph's Church. A full listing of artists, performance dates and tickets are available at www.twelvepeople.org.
In addition to the performances, this year's participants will select one of their photos for gallery exhibition and auction on October 11th at 6 p.m. in Edna's Room of The Grand 1894 Opera House.
TWELVE is a nonprofit initiative fiscally sponsored by ARTSPIRE, a Program of New York Foundation for the Arts (NYFA). The program is one of the oldest, largest, most prestigious and artist friendly in the county.
About Hayes Carll
"It comes down to the songs and the people," says Hayes Carll. "You write about what you see, the things that cross your mind, and then you wanna get out there and play it back to 'em. You kinda know how you're doing when you see how the people respond."
Letting reality do the work has sure worked for the lanky performer. Born in Houston, he went to college at Hendrix College in Conway, Arkansas, getting a degree in History, then headed back to Crystal Beach to play for a wild assortment of people and, eventually, performing in Galveston at the legendary Old Quarter Acoustic Cafe.
After releasing Flowers & Liquor in 2002, Carll was voted the Best New Artist of 2002 by The Houston Post. He would go on to release Little Rock, on his own Highway 87 label, which became the first self-owned project to the top the Americana charts.
It wasn't long until Lost Highway, home of Lucinda Williams, Ryan Adams, Van Morrison and the Drive-By Truckers came calling. Trouble in Mind yielded the tongue firmly in cheek "She Left Me For Jesus," a know-nothing redneck send-up/beer joint anthem. "Jesus" was the 2008 Americana Music Awards Song of the Year.
About Carrie Rodriguez
At each stage of Carrie Rodriguez's career—as a fiddler, singer, and songwriter—the Austin, Texas, native has learned the importance of letting go. That was certainly true when it came to recording her fifth solo album, Give Me All You Got, her first of largely original tunes in several years.
"I've been a reluctant writer ever since I started, never quite feeling like I was supposed to be doing it," Rodriguez confesses. "But I'm drawn to songs that are emotional and direct, and I learned that when you can just be open and not analyze too much, that's when the truth comes out."
Rodriguez, who came to attention a decade ago performing with singer-songwriter Chip Taylor, has established an impressive roster of touring, recording, and co-writing affiliations—with Lucinda Williams, Rickie Lee Jones, John Prine, Mary Gauthier, Alejandro Escovedo, guitarist Bill Frisell, and others.
While Carrie's father, David Rodriguez, was an accomplished songwriter, and took her on tour with him in Europe when she was a teen, song craft, like improvising on fiddle and singing, didn't come automatically to Carrie. After sitting in on a sound check with her dad's old Houston pal Lyle Lovett, she detoured from a degree as a classical violinist at Oberlin Conservatory and set herself on course to become a fiddler at the Berklee College of Music.
About The Grand 1894 Opera House
The Grand 1894 Opera House presents more than 35 productions annually, including dance, drama, Broadway musicals, opera, as well as shows featuring stars of stage and screen. The Grand is one of the few remaining theatres of its era in Texas and is listed in the National Register of Historic Places. As further recognition of its importance to the citizens of Texas, in 1993 the 73rd Texas Legislature proclaimed The Grand "The Official Opera House of Texas."
For additional information on TWELVE, please visit twelvepeople.org or contact Will Wright at 806-236-0715 or will@twelvepeople.org.