Rookie Photo Shoot thrusts Andrew Wiggins into awfully awkward situation
Willie Grace | 8/4/2014, 12:34 p.m. | Updated on 8/4/2014, 12:34 p.m.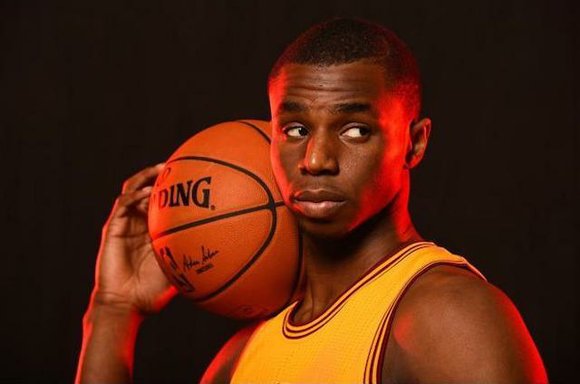 On the same day Timberwolves owner Glen Taylor told the St. Paul Pioneer Press Kevin Love would likely be dealt on Aug. 23 or 24 — the moment Andrew Wiggins becomes eligible to be traded — rumors spread that the NBA Store pulled Cavaliers jerseys bearing the No. 1 overall pick's name from its website.
A day later, Wiggins wore his No. 21 Cavs jersey on national television from the NBA Rookie Photo Shoot in Westchester County, N.Y. A "SportsCenter" anchor peppered him with questions about his future.
Of all the answers Wiggins provided, this is the one that made headlines: "I just want to play for a team that wants me. So, whichever team wants me, I'll play for." That and an awkward screen grab of Wiggins.
But put yourself in Wiggins' shoes. Or his jersey, rather. You've just been selected No. 1 in what was supposed to be the deepest draft since 2003 and you're posing for your first playing card. It's one of those "I've-made-it" moments you've dreamed of since before people ever started saying you might one day make it to the NBA. Only, you probably won't ever be wearing that jersey again. Now, say cheese!
Obviously, Wiggins just signed a five-year, $24.8 million deal to play basketball professionally, so we realize he's being paid handsomely to sit in that chair, but that doesn't make it any less awkward. And Panini America's public relations folks — those apparently responsible for Wiggins' media availability — probably should have recognized that before forcing him to face that awkwardness in front of millions.
Has Wiggins spoken to LeBron James personally? "I haven't. I feel like I've had a busy summer. It's hard for me to really get on the phone and contact people, so I can only imagine what it's like for him."
Is there anything he'd like to say to LeBron in order to remain his teammate? "Um, shoot. I don't really know what to say, you know? If I — when I'm in Cleveland, I'm going to play as hard as I can, give it my all, and I'll play with whoever."
Have the Cavaliers told Wiggins what to expect? "No. Right now, I'm just taking it day by day. What happens in the future happens. I can't control nothing. It's out of my hands. At the end of the day, you've got to remember that the NBA is a business before anything, so I'm just waiting to hear. I'm a rookie. I don't really have too much say."
Does he think Cleveland wants him? "Yeah." Wiggins looks off camera. "I hope so." He laughs.
HOW IS HE NOT FRUSTRATED? "You can't take it personally. You can't be listening to everything everyone says. You've just got to listen to the people that really know what's going on — like your agent or the GM of the team or the coaches on the team. You can't really listen to the outside sources."
In an uncomfortable position few other No. 1 overall picks have found themselves in, Wiggins handled himself well on ESPN, as he did in print and on the radio and as he's done ever since the Love rumors began swirling when LeBron omitted his name from his "I'm Coming Home" essay.
"It's not too difficult," he told SiriusXM NBA Radio. "You've just got to prepare your mind for it. Just expect the worst." Here's hoping the awkward NBA life of Andrew Wiggins has a resolution soon.
For more information go too http://www.sports.yahoo.com