Houston Symphony September and October 2014 Calendar
Andrés Orozco-Estrada's Inaugural Season as Music Director Opens with Celebratory Weekend of Concerts, Including Opening Night and Two Free Community Performances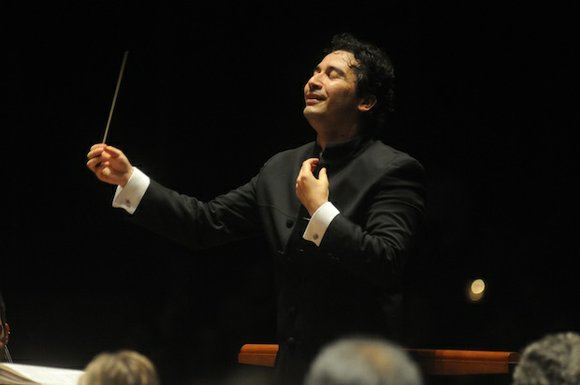 POPS Season Begins with Tony-Winning Jason Alexander in an Evening of Comedy and Song
HOUSTON (August 5, 2014) – The Houston Symphony's 2014-15 Classical and POPS concert series will kick-off in September with an exceptional line up of orchestral repertoire, world-class soloists and comedic fun. Following a laugh-filled weekend of POPS performances with Tony Award-winning actor and Seinfeld star Jason Alexander, the inaugural season of conductor Andrés Orozco-Estrada will feature three concerts in a "¡Bienvenido, Andrés!" weekend including Opening Night and Gala along with two free performances.
Fall brings the return of renowned pianist André Watts playing Rachmaninoff and the world premiere of Gabriela Lena Frank's South American-inspired Karnivalingo. POPS lovers can take in the reminiscent fun of your favorite TV theme songs with TV's Greatest Hits conducted by guest artist Steven Reineke and featuring singer/comedian Nicole Parker of MADtv.
On October 2-5, the world-famous Korean-American violinist Sarah Chang comes to Houston to perform Barber's Violin Concerto. Renowned composer, Rice University faculty member and founding member of Houston's premier contemporary music group, Musiqa, Karim Al-Zand shares his composition, City Scenes, in the same program that will be accompanied with photographs from Houston-based photographer Libbie Masterson. The tales of Arabian nights come alive in Rimsky- Korsakov's seductive Scheherazade. Conductor Laureate Hans Graf returns to the podium to lead Ravel's Mother Goose and Debussy's Images with Houston favorite Jon Kimura Parker playing Ravel's jazzy Piano Concerto in G minor. October concludes with the dynamic and powerful trumpeter Byron Stripling's returns the stage as he weaves a tapestry of ragtime, blues and jazz music and the stories surrounding the music.
Unless otherwise noted, all concerts take place at Jones Hall for the Performing Arts, 615 Louisiana Street, in Houston's Theater District. For tickets and information, please call (713) 224-7575 or visit www.houstonsymphony.org unless otherwise noted. Tickets may also be purchased at the Houston Symphony Patron Services Center in Jones Hall (Monday – Saturday from 10 a.m. to 6 p.m.). All programs and artists are subject to change.
Friday, September 5, 2014, 8:00pm
Saturday, September 6, 2014, 8:00pm
Sunday, September 7, 2014, 7:30pm
Jason Alexander
An Evening Of Comedy And Song
Michael Krajewski, conductor
*Jason Alexander, vocalist
Tony Award® winner and multi-talented star of the ground-breaking hit TV show Seinfeld, Jason Alexander joins the orchestra for his first-ever symphonic performance in Texas. Alexander engages you for an evening of music and laughs as he reminisces about his remarkable and versatile career on the stage and screen. Hear songs from Broadway's Music Man, Pippin and Merrily We Roll Along.
Friday, September 12, 2014, 8:30pm
¡Bienvenido, Andrés! Concert
Free Community Performance at Miller Outdoor Theatre
Andrés Orozco-Estrada, conductor
Gabriela Montero, piano
All of Houston is invited to Miller Outdoor Theatre for a free concert to celebrate and welcome Music Director Andrés Orozco-Estrada. Bring your family and join us under the stars as Andrés leads the orchestra through music of Colombia and America, complete with folk dancing and other festive elements. Also on the program, Venezuelan pianist Gabriela Montero dazzles you with Gershwin's Rhapsody in Blue. Don't miss this milestone event in the Symphony's history!