Israel declares 'mission accomplished' as troops leave Gaza for cease-fire
Willie Grace | 8/5/2014, 11:13 a.m. | Updated on 8/5/2014, 11:13 a.m.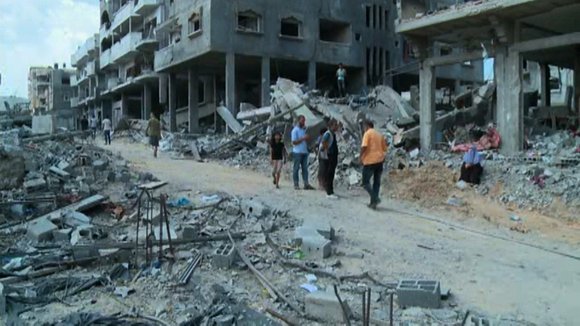 Withdrawing its ground forces from Gaza Tuesday for a three-day cease-fire with Hamas, Israel announced that its central goal was achieved.
"Mission accomplished," the Israel Defense Forces (IDF) said on Twitter. "We have dismantled the underground terror network built by Hamas to infiltrate and attack Israel." The military said 32 tunnels were destroyed in the four-week conflict.
The declaration came amid suspicions on both sides over whether the 72-hour humanitarian cease-fire will hold.
More than 1,800 Palestinians have been killed in Gaza during the conflict, according to the Palestinian Health Ministry. It's unclear how many were militants. The United Nations estimates that about 70% of the dead were civilians. But the IDF says about 900 militants were killed. It did not provide a breakdown of the victims by age or gender.
Israeli officials have said 64 Israeli soldiers and three civilians in Israel have died.
Israel is implementing the Egyptian-brokered truce, which took effect Tuesday morning, while maintaining "defensive positions" outside Gaza, the IDF said.
"We have no forces within Gaza," IDF spokesman Lt. Col. Peter Lerner told CNN Tuesday.
About 20 rockets were fired from Gaza toward Israel minutes before the cease-fire went into effect Tuesday at 8 a.m. (1 a.m. ET) , an IDF spokesman said. Six were intercepted by Israel's Iron Dome defense system and at least one was reported to have hit a Palestinian town in the West Bank without causing any injuries.
Hamas' military wing, the Al-Qassam Brigades, said it launched "a barrage of rockets" at Israeli cities as a response to "Israeli crimes."
The official Palestinian news agency WAFA reported that several Israeli strikes took place across Gaza before the beginning of the cease-fire. A CNN team witnessed one strike on a southern area of Gaza City and heard several others.
Officials from the United Nations and United States, who have been pushing for a cease-fire for weeks, hope that the three-day pause will allow negotiations to take place for a more lasting peace.
Israeli guard stabbed in West Bank
In the West Bank, a security guard outside the settlement of Ma'ale Adumim was stabbed Tuesday, Israeli police said.
The suspect, an Arab, fled back into a Palestinian neighborhood, according to witnesses, Israeli police spokesman Micky Rosenfeld said.
Israeli police are searching for the suspect and calling the incident terrorism, Rosenfeld said.
The guard is in moderate condition.
'Peace? What peace?'
The Gaza truce enables the 1.8 million residents to go out into the streets to pick up supplies and check on abandoned homes.
The conflict has displaced more than 200,000 people across the densely populated territory.
For the first time Tuesday, the number of people packed into U.N. shelters decreased, said U.N. official Chris Gunness in Gaza.
After the cease-fire began, residents trickled into Shujaya, an area near Gaza City that experienced some of the most destructive violence of the conflict.
They found craters and ruins where homes and shops once stood.
People scaled crumbled concrete and twisted metal to rummage for any belongings left in the rubble.