Broadcaster Mary McCoy Honored With Inaugural Conroe Legends Mural
The Greater Conroe Arts Alliance spearheads movement to recognize local artists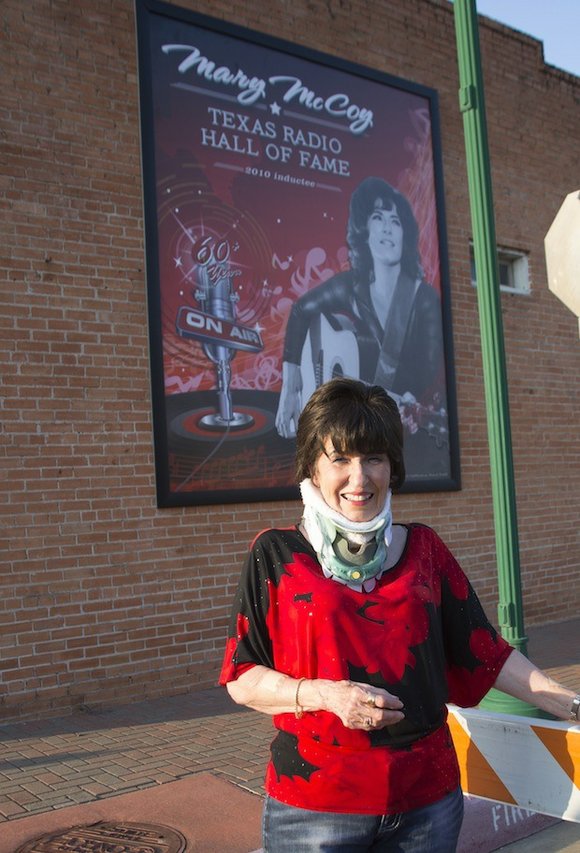 CONROE, TEXAS − ­­­­August 6, 2014 − An arts program initiated to honor Conroe's hometown heroes debuted with the unveiling of an outdoor mural celebrating the lifetime accomplishments of Mary McCoy, a pioneer in Texas broadcasting.
More than 100 people were on hand at 202 N. Main St., owned by Rodney and Joyce Pool and occupied by Kinkade Gallery on Saturday, Aug. 2, for the premiere of the mural of McCoy, a popular radio personality and 2010 inductee into the Texas Radio Hall of Fame.
"I'm so surprised and honored," said McCoy at the unveiling ceremony. "To be recognized by the people of your hometown is something very touching and very special."
McCoy's long-running career in broadcasting got its launch on Conroe's KMCO in 1951 with a 15-minute show in which she sang and played the guitar. In 1955, she appeared on "Louisiana Hayride" along with many other popular music stars, including Elvis Presley and Jim Reeves. She is best known to area residents for her work on KMCO, KIKR and KVST (K-Star Country).
The ceremony unveiled the first in a series of murals commissioned to local artist Theresa Thornhill to celebrate Conroe residents who have brought fame or distinction to Conroe.
"Paying tribute to locals who have contributed to the community and expanding artistic expression in Conroe is a wonderful thing," said Craig Campobella, a nationally recognized sculptor and supporter of the project. "It's good to see the growth and appreciation of the arts in Conroe − it's long overdue."
The Conroe Legends mural concept was created by a group of local residents who support the arts, who received significant support from The Greater Conroe Arts Alliance, said Thornhill. The 9-foot by 10-1/2-foot mural took several weeks to design and is printed on outdoor-grade signage stock that can be reprinted in the event of damage or fading.
"We are planning a series of four murals on this building," said Thornhill, who added that talks have already begun about who to honor in the next mural, which is anticipated to be created and unveiled before the end of the year.
The driving force behind the Conroe Legends debut mural include: Ben Amato of KSTAR Radio; Gary and Patty Calfee; Jimmy and Shirley Copeland; Larry and Marsha Corley; John and Della Grafton; Mary Sarah Gross; J. Ross Martin III and Debbie Glenn of Red Brick Tavern; Tommy and Mary Anne Metcalf; Rodney and Joyce Pool; Steve and Joan Said of Dosey Doe; John Wiesner Automotive Group; Dr. Wally and Neddie Jane Wilkerson; Dr. Randy and Karen (White) Martin; and Gene and Betty Wolf of Sharity Productions.
"This is a great project for Conroe," said Annette Spikes, president of The Greater Conroe Arts Alliance. "We are proud to support the continuation of the Conroe Legends program."
For more information on the Conroe Legends mural series, suggest a nominee or make a financial contribution to the program, contact Spikes at 936-756-5347 or aspikes123@consolidated.net.
The Greater Conroe Arts Alliance is a collaborative 501(c)3 nonprofit organization dedicated to enriching lives by providing quality arts programs and events to the community of Conroe and the surrounding areas. The Alliance believes that participation in and support of the arts is an investment that enhances the entire community economically while providing an uplifting and fulfilling cultural experience to everyone.
Membership in the GCAA is open to any organization or individual with a desire to have an artistic voice and presence in the Greater Conroe Area. Interested persons or organizations are welcome to become members and attend meetings. The next scheduled meeting will be held on Sept. 18, 2014, at 11:30 a.m. at the Conroe Art League Gallery in the Madeley Building at 127 Simonton St. For more information, contact Annette Spikes at 936-756-5347, aspikes123@consolidated.net
For more information, visit greaterconroeartsalliance.org.