'Pain-free' Woods ready for PGA Championship
Willie Grace | 8/7/2014, noon | Updated on 8/6/2014, 10:25 p.m.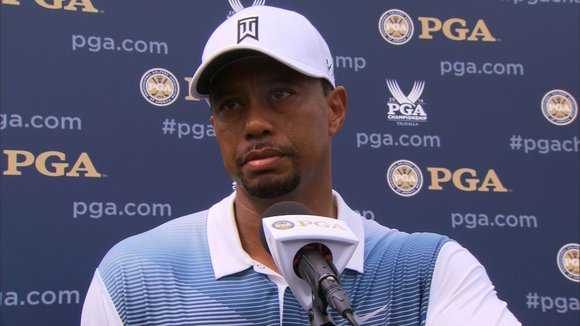 Tiger Woods has not only declared himself fit to play at this week's PGA Championship, after playing nine holes of practice at Valhalla on Wednesday, but is also confidently declaring he can win the tournament .
Since he withdrew from the WGC-Bridgestone Invitational on Sunday after jarring his troublesome back, Woods' participation had dominated the build-up to the final major of the year.
However, the 38-year-old's physiotherapist fixed a problem that had looked set to rule him out, after Woods dislocated his sacrum -- a bone at the base of his spine -- when landing in a bunker.
"I felt good once the bone was put back in," the former number one told reporters on Wednesday evening. "I'm not in any pain."
"The inflammation has been down, I have range of motion, speed and power -- and I just need to keep it up."
There was better to come for Woods' legion of fans as he responded to the question of whether he could win at Valhalla with a resounding 'Yes'.
Woods had surgery to treat a trapped nerve in his back in March, with the resulting three-month lay-off forcing him to miss the Masters -- for the first time in his career -- and the U.S. Open as well.
His back problems appeared to have been put behind him until Sunday's flare-up in Ohio, only the third PGA Tour event he had contested since the operation.
However, he says Sunday's problem was unrelated to his operation earlier this year.
"It was a different pain to what I had been experiencing so I know it was not the site of the surgery," he explained.
Woods' confidence about potential victory flies in the face of his recent performances in the majors, with the American having failed to win any of the last 25 he has contested.
In his last appearance at the British Open last month, the former world number one finished 69th -- a performance that would have been unimaginable prior to the decline in his game following the well-documented marital problems he suffered in 2009.
Trailing the all-time record held by Jack Nicklaus, 14-time major winner Woods needs to prove his form and fitness this week to have a hope of making Tom Watson's team for next month's Ryder Cup against Europe in Scotland.
While keeping a close eye on Woods' practice round, the veteran Watson also named Steve Striker as one his Ryder Cup vice-captains on Wednesday -- with the 47-year-old joining Andy North and Raymond Floyd as an assistant.
Woods' form this season barely reflects the feverish speculation over his fitness, since his best finish from the seven tournaments he has contested worldwide is a lowly 25th.
Should he suffer no further problems, Woods will partner former champions Phil Mickelson and Padraig Harrington when he tees off on Thursday.
He is chasing his fifth title after winning the event in 1999, 2000, 2006 and 2007.
PGA breaks with tradition
In a separate development on Wednesday, PGA Championship organizers announced that the 2016 edition of the competition will be held in July.
The event is traditionally held in August but with golf featuring at that year's Olympics for the first time since 1904, with the Rio Games running between August 5-21, the PGA has been forced into a change.
The tournament scheduled for Baltusrol in New Jersey will now take place on July 28-31.
"It's a condensed schedule," PGA of America chief executive officer Pete Bevacqua told reporters at Valhalla.
"Obviously with the Olympics, it's also a Ryder Cup year, you throw in the (PGA playoffs), so it's a very congested schedule."
For more information go to http://www.cnn.com