RHOA's Porsha Williams Officially Joins "Dish Nation" With "Rickey Smiley Morning Show"
Willie Grace | 8/12/2014, 4:58 p.m. | Updated on 8/12/2014, 4:58 p.m.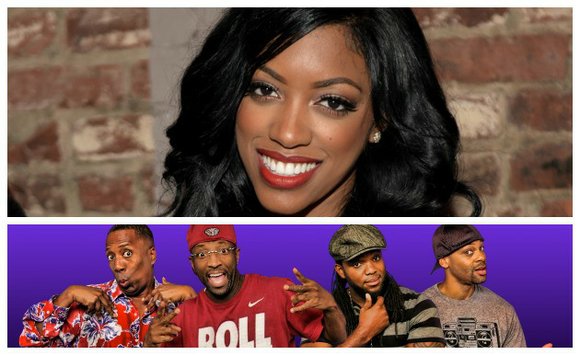 According to NewsOne, "Real Housewives of Atlanta" cast member, Porsha Williams is now officially the newest member of the "Dish Nation" Atlanta cast.
Porsha has been sitting in for the beloved Ebony Steele for the past few months. Rumors had been circulating that Smiley et al had chosen model Claudia Jordan as Steele's replacement but that was obviously not accurate as Williams has been on the air steadily for the last few weeks.
Porsha has been doing a good job of keeping up with her new co-hosts, Rickey Smiley, HeadKrack, Gary With Da Tea and Rock-T. So far, so good as Williams seems to have found her niche.
Said Porsha,
"On my very first day in the Atlanta studios of 'Dish Nation' I immediately felt a natural chemistry with the team. Rickey Smiley is an amazing comic and I am thrilled to learn and grow with one of the best morning hosts in the country."
Porsha appears to be comfy in the position so we wish her the best of luck. But word of caution to our homies on the Rickey Smiley Morning Show, keep the props out of Porsha's face! You know why!
We kid Ms. Williams! Congratulations to Porsha on her new journey and congrats to Rickey and the gang on their new journey as well! We'll be watching!
For more information go to http://www.theurbandaily.com