Pasadena, Texas Native Serves Aboard USS West Virginia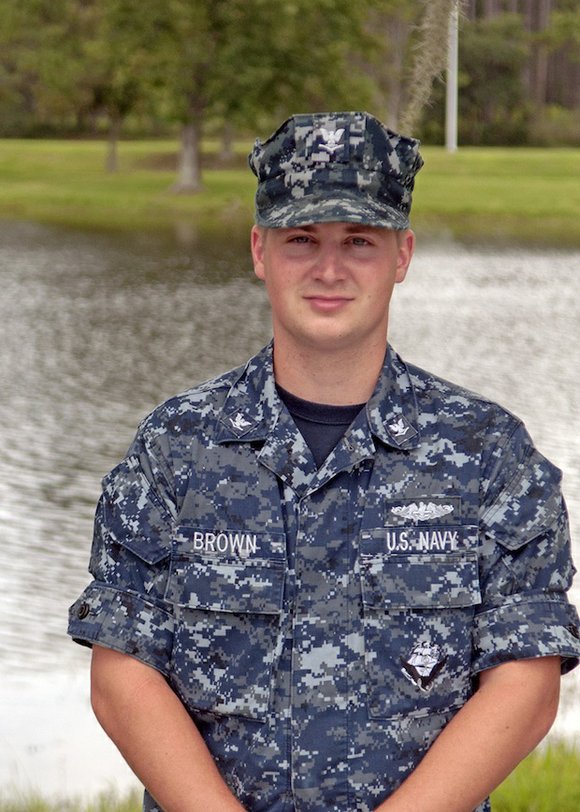 By Lt. Caleb White, Navy Office of Community Outreach
KINGS BAY, Ga. – A 2010 Pasadena Memorial High School graduate and Pasadena, Texas native is serving in the U.S. Navy as part of a crew working aboard one of the world's most advanced ballistic missile submarines, USS West Virginia (SSBN 736).
Petty Officer 3rd Class Lucas Brown is a machinist mate auxiliary type serving aboard the Kings Bay-based boat, one of 14 Ohio-class ballistic missile submarines. Measuring 560 feet long, 42 feet wide and weighing more than 16,500 tons, a nuclear-powered propulsion system helps push the ship through the water at more than 20 knots.
The Navy's ballistic missile submarines, often referred to as "boomers," serve as an undetectable launch platform for intercontinental ballistic missiles. They are designed specifically for stealth, extended patrols and the precise delivery of missiles if directed by the President. The Ohio-class design allows the submarines to operate for 15 or more years between major overhauls. On average, the submarines spend 77 days at sea followed by 35 days in-port for maintenance.
"We demand the highest standards from Brown, technically and personally," said Rear Admiral Charles A. Richard, commander, Submarine Group Ten in Kings Bay, Ga. "His Commanding Officer, his country, and I take great pride in his willingness to raise his hand and volunteer to serve the nation. The importance of our Sailors is immeasurable; people like Brown are crucial to ensuring our submarines are operating at their best and the mission is flawlessly executed. I'm so very proud he is on our team."
Machinist Mate Auxiliary Type Third Class (Submarine Warfare) Lucas Brown is part of the boat's Blue crew, one of the two rotating crews, which allow the ship to be deployed on missions more often without taxing one crew too much. A typical crew on this submarine is approximately 150 officers and enlisted Sailors.
Because of the stressful environment aboard submarines, personnel are accepted only after rigorous testing and observation. Submariners are some of the most highly trained and skilled people in the Navy. The training is highly technical and each crew has to be able to operate, maintain, and repair every system or piece of equipment on board. Regardless of their specialty, everyone also has to learn how everything on the ship works and how to respond in emergencies to become "qualified in submarines" and earn the right to wear the coveted gold or silver dolphins on their uniform.
"For quality assurance I am in charge of assuring the specialized instrumentation throughout the vessel is capable of withstanding the rigors of operation while underway," Brown said.
Although it is difficult for most people to imagine living on a submarine, challenging submarine living conditions actually build strong fellowship among the crew. The crews are highly motivated, and quickly adapt to changing conditions. It is a busy life of specialized work, watches, and drills.
"I joined the Navy to see the world, and I have been able to use tuition assistance to further my education. I now have over 40 hours toward my college degree that hasn't required a penny of my own money," Brown added.
As a member of one of the U.S. Navy's most relied upon assets, Brown and other USS West Virginia (SSBN 736) sailors know they are part of a legacy that will last beyond their lifetimes.