Laurenzo's Introduces New Chef de Cuisine and Debuts New Fall Menu Items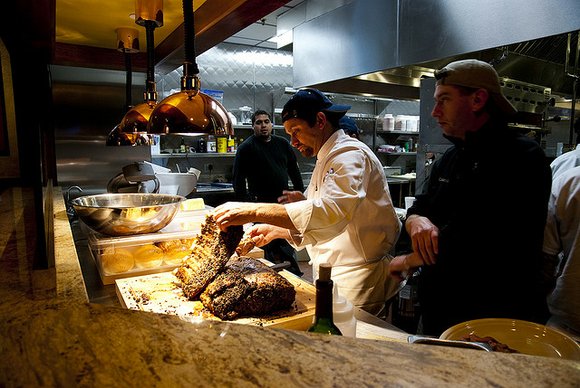 Houston, Texas. August 18 2014. Owner and executive chef Domenic Laurenzo is excited to debut several new seasonal menu items for the fall at Laurenzo's, 4412 Washington Avenue, Houston, Texas 77007. "It was great fun working with our new chef de cuisine Donny Navarrete creating these new appetizers," stated Laurenzo, "some of which have been family favorites for years. I can't wait for you to try them. Enjoy Every Moment!" For more information about Laurenzo's, please visit www.Laurenzos.net or call 713-880-5111.
Meet Chef de Cuisine Donny C. Navarrete
Thirty-six year-old, native Houstonian, Donny C. Navarrete is the baby of nine children born to El Salvadorian parents. Navarrete started cooking with his mother, Maria Angelica, when he was about seven years-old. "She cooked very typical Latin meals," stated Navarrete, "but always had fun playing with the preparations."
It was the PBS cooking shows, The Frugal Gourmet, The Galloping Gourmet and Cooking with Martin Yan famous mantra, "If Yan can cook, so can you!" that convinced, a then twelve year-old, to cook a complete Thanksgiving dinner for the entire family.
"Being Latin, we don't celebrate Thanksgiving," stated Navarrete. "But that year, we did." With help and support from his mom, he cooked a turkey, cornbread dressing, gravy, mashed potatoes, sweet potatoes and pecan pie. "Cooking with my mom was just the coolest experience. Her smile and enjoyment while cooking was very infectious. Credit his Home Economics teacher, Ms. Sandifer, with creating the "aha" moment that gave his life direction. "She was so cool. She introduced me to Soul Food. When she cooked a chicken, with perfect, crispy skin in a paper bag, I knew that my feature was food." Navarrete graduated in 2000 from the Culinary Institute of American.
"In fact," Navarrete continued, "making people happy with food is not only my wildest dream; it is my life's passion." While he has spent the majority of my professional career helping non-restaurant folks understand the real world of restaurants, Navarrete has worked with Mia Bella Trattoria, Weston Lakes Country Club, Zula Restaurant, Bossa Restaurant and The Mercury Room.
Navarrete's first cooking job was as a butcher at the Luby's on West Gray at Dunlavy. "My sister got me the job," he stated. "I was only seventeen, and was in heaven! I was soon promoted to line cook where I learned the value of cooking on a large scale."
"When my mother got cancer, I asked her what she wanted to eat. The only thing she really wanted to eat one last time was stone crabs, which happened to be out of season. So I called all my seafood contacts, and finally found some in Kemah. I drove to Kemah, and got her the crab claws. That was my proudest moment. I was able to cook for my mom and give her a little of the joy and pleasure she gave me."
What gets Navarrete through a long day working the line, is knowing that his lovely wife Britany, and Smash, a three year-old pug, and Buddy, a year-and-a-half old Great Dane and Lab mix, are waiting for him at home.