NAACP and McDonald's Join Forces to Promote Healthy Eating, Healthy Lifestyles and Physical Activity
Program will promote health and well-being in communities of color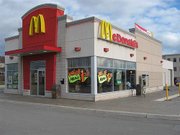 (Baltimore, MD) – The NAACP and McDonald's are proud to announce a year-long commitment aimed at addressing health disparities and providing health education in communities of color throughout the nation. Project H.E.L. P. (Healthy Eating, Lifestyles and Physical Activity) is focused on low-income and underserved communities. Together, the NAACP and McDonald's will execute a comprehensive program of education and outreach focused on chronic disease prevention, physical activity and healthy eating.
"The NAACP is encouraging communities of color across the nation to be actively engaged in conversations about health issues that disproportionately affect African-Americans," said Niiobli Armah IV, Director of Health Programs for the NAACP. "The NAACP health department is committed to health and wellness, focusing on obesity reduction as one of the core risk factors of chronic disease. Working with McDonald's will enhance our ability to educate and connect members of our community to these health forums, pioneering sustainable pathways to a healthy life."
Through the support of McDonald's and its franchisees, Project H.E.L.P will launch in several major markets across the country including, New York City, Washington, D.C., Houston, and Chicago. The local NAACP chapters will utilize grant funds to deliver programs that will equip communities with information and tools to help with making informed decisions regarding health and nutrition.
"McDonald's is excited about the work we are doing with the NAACP in African-American communities," said Rob Jackson, McDonald's U.S. marketing director. "This program reinforces our national commitment to inform our customers about the importance of balanced eating and active lifestyle and it also aligns perfectly with our initiatives to support the community 365 days a year."
Staying true to our commitment to eliminate the racial and ethnic disparities in our health care system that plague people of color in the United States, local NAACP branches have already initiated Project H.E.L.P programming in some communities. African Americans continue to have the highest incidence, prevalence and mortality rates from chronic diseases like cardiovascular disease, diabetes and obesity. For several years, we have noticed the great strides McDonald's has made with regard to nutrition through the evolution of the menu and giving their customers choices that best suit their nutritional needs. We are excited to have their support as it allows us to amplify our efforts and reach as we work to address these health issues in the community.
About the NAACP
Founded in 1909, the NAACP is the nation's oldest and largest nonpartisan civil rights organization. Its members throughout the United States and the world are the premier advocates for civil rights in their communities. You can read more about the NAACP's work and our five "Game Changer" issue areas here.
ABOUT MCDONALD'S USA
McDonald's USA, LLC, serves a variety of menu options made with quality ingredients to more than 27 million customers every day. Nearly 90 percent of McDonald's 14,000 U.S. restaurants are independently owned and operated by businessmen and women. Customers can now log online for free at approximately 11,500 participating Wi-Fi enabled McDonald's U.S. restaurants. For more information, visit www.mcdonalds.com, or follow us on Twitter @McDonalds and Facebook www.facebook.com/mcdonalds. To learn more about the 365Black initiative, visit www.365Black.com.