9 Great New U.S. Beach Hotels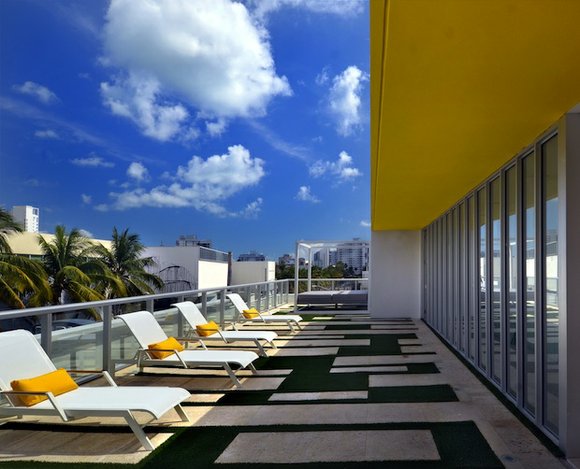 By Kristine Hansen
for CNN
(CNN) -- Few travel pleasures match checking into a room few others have stayed in.
From Rhode Island to Santa Barbara, South Beach to Kauai, new hotels just steps from the beach are marking their first summer -- it's not over yet! -- in business.
Amenities like loaner golf clubs (good ones, too) and morning yoga on a rooftop make these new beach hotels worth an extended stay.
The Break (Narragansett, Rhode Island)
As 'Gansett's first boutique hotel, The Break expects to close out summer with a bang after its in mid-August opening.
Crisp, colorful hues highlight each of the 16 rooms, including coral-motif pillows and nightstands the color of tangerines that provide a mid-century, surf-chic vibe.
The Break, 1208 Ocean Road, Narragansett, Rhode Island; +1 401 363 9800; rates not available
Vintro Hotel & Kitchen (Miami Beach, Florida)
As if South Beach isn't already stylish, Vintro Hotel & Kitchen joined the crop in July.
The 50-room hotel with a freshwater plunge pool on its rooftop (where morning yoga is hosted) borders the newly renovated Collins Canal.
Guests can borrow bicycles and golf clubs.
A beach club is two blocks away.
Vintro Hotel & Kitchen, 2216 Park Ave., Miami Beach, Florida; +1 305 674 9200; rooms from $190 per night
21 Broad (Nantucket, Massachusetts)
This new hotel is decked out in colors that evoke citrus fruits and the decor has an urban bent.
There's a turntable in the lobby and an outdoor courtyard with a fire pit.
Each of the 27 rooms features amenities like a four-poster bed and shower head infused with vitamin C.
Well, hey, it's novel.
The food at 21 Broad is just as fresh.
21 Broad, 21 Broad St., Nantucket, Massachusetts; +1 508 228 4749; rooms from $359 per night
Hotel Zamora (St. Pete Beach, Florida)
Perhaps playing off the mod surrealism at the nearby Salvador Dali Museum, the Hotel Zamora flaunts a whitewashed exterior reminiscent of the Mediterranean, particularly its namesake Zamora, Spain.
Walk-in spa showers in each room remove sand from your skin with a luxurious twist.
Tapas such as lobster fries and yucca chorizo hash are available at the hotel's Castile restaurant.
There's also a cool rooftop bar.
Hotel Zamora, 3701 Gulf Blvd., St. Pete Beach, Florida; +1 855 926 6721; rooms from $170 per night
Metropolitan by COMO (Miami)
The first U.S. property from Singapore-based COMO Hotels and Resorts, this 74-room hotel is located in a 1930s building in the Art Deco District.
With direct access to the beach, the atmosphere inside is relaxing, with peppermint-green hues and white marble.
The on-site restaurants are excellent -- Traymore serves Florida seafood, and a poolside eatery does pizza baked in a wood oven.
Metropolitan by COMO, 2445 Collins Ave., Miami Beach, Florida; +1 305 695 3600; rooms from $188 per night
Kauai Shores (Kauai, Hawaii)
Kauai Shores, an Aqua Hotel, is located on Kauai's Coconut Coast, on the eastern shore of the island.