Israel strikes Gaza targets after rocket fire; Israeli negotiators called home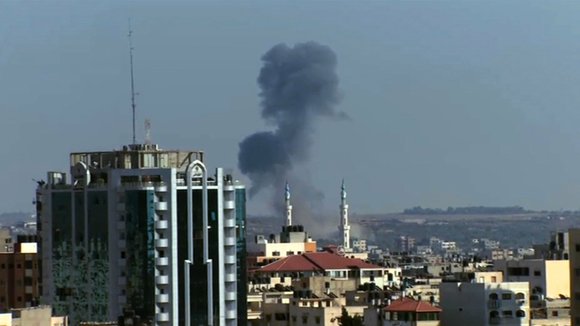 An Israeli delegation has been ordered home from talks in Cairo aimed at ending the conflict in Gaza, a senior Israeli official said Tuesday, shortly after the Israeli military blamed militants in Gaza for breaking a truce.
Palestinian negotiators placed the blame for the lack of progress in the talks on the Israelis.
"The Israeli delegation is still trying to impose (upon us) what they want, and this would be impossible for us to accept as Palestinians," said Azzam Al Ahmad, head of the Palestinian negotiators.
The Palestinians introduced their latest position to Egyptian and Israeli negotiators on Tuesday, and are awaiting a response, Al Ahmad said.
As rocket attacks and airstrikes resumed, one interpretation of the Israelis leaving Cairo was that they had given up on negotiations. Another Palestinian leader, Izzat Risheq, looked at it another way, saying the Israelis took the newest proposal home with them to share with their government.
"The chances of an agreement are very slim, and the situation is very difficult," he said.
At least eight rockets were fired into Israel from Gaza Tuesday since the ceasefire began to unravel, Israel's military said.
The rocket fire came only hours after the ceasefire was extended until the end of the day, as Palestinian and Israeli negotiators, struggling to reach a more lasting agreement, reported little progress.
Israeli Prime Minister Benjamin Netanyahu ordered the Israel Defense Forces to respond to the rockets, a senior Israeli official told CNN. An IDF statement shortly afterward said strikes were being carried out against targets in Gaza.
"Yet again, terrorists breach the ceasefire and renew fire at Israeli civilians from Hamas ruled Gaza Strip," Israel Defense Forces spokesman Peter Lerner said in the statement.
"This continued aggression will be addressed accordingly by the IDF; we will continue striking terror infrastructure, pursuing terrorists, and eliminating terror capabilities in the Gaza Strip, in order to restore security for the State of Israel."
It's not yet clear who fired the rockets from Gaza, and no group has claimed responsibility.
However, Hamas spokesman Sami Abu Zouhri, in a text message sent to CNN, denied that Hamas was responsible.
"We have no information about rockets being shot from Gaza to Israel. The aim of the air strikes on Gaza is to stop the negotiations in Cairo. The Israeli occupation bears the responsibility for this," he said.
Nine Palestinians, including three children, were wounded in an Israeli airstrike in Rafah, Ashraf el-Qedra, spokesman for the Palestinian Health Ministry in Gaza, told CNN.
Al Aqsa TV reported airstrikes in northern and central Gaza, as well.
Hamas: Struggle will continue
Risheq said via Twitter: "The struggle of our people will not depend on whether we have a truce or not.
"Our struggle, however, will continue on until our peoples' goals of freedom and national independence are achieved."
A thick plume of smoke could be seen rising from a building in southern Gaza apparently hit by an Israeli airstrike.
A CNN team on the ground also saw earlier what appeared to be three rockets being fired from Gaza into Israel, leaving smoke trails in the sky.