Israel strikes Gaza targets after rocket fire; Israeli negotiators called home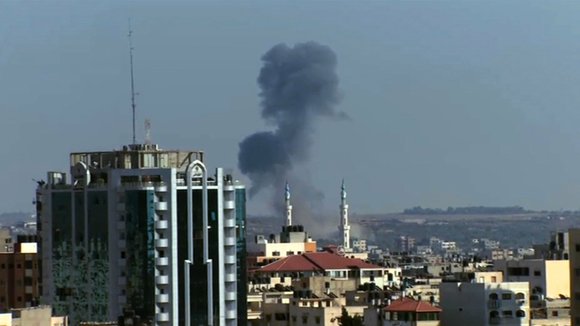 Shortly before the rockets were launched, Hamas spokesman Fawzi Barhoum said in an e-mailed statement to CNN: "If Netanyahu does not understand our message and people's demands in Gaza through political language, we know a way to make him understand."
A banner on the Hamas-run Al-Aqsa TV blamed Israel for violating the truce.
Cycle of violence
As the deadline for the end of the truce was pushed back Tuesday morning, officials on both sides offered little reason for optimism.
"There hasn't been any progress at all," Azzam al-Ahmed, the lead Palestinian negotiator, told reporters, dismissing earlier reports that a deal was set to be signed.
"We hope that every minute in the next 24 hours will be used so we can reach an agreement, or the cycle of violence will continue," he said.
Negotiating through Egyptian go-betweens, Israel and the Palestinians had been attempting over the past week to resolve longstanding issues amid a temporary ceasefire in the deadly fighting in and around Gaza.
Under the latest extension, the truce was set to expire at midnight Tuesday ( 5 p.m. ET).
'Very fragile and very explosive'
On Monday, Mustafa Barghouti, leader of the Palestinian National Initiative, accused the Israelis of blocking the path to an agreement. He said by phone from Gaza, after returning from Cairo, that the situation is "very fragile and very explosive."
Meanwhile, Netanyahu said that Israel was "prepared for any scenario," with the Israeli military ready "for a very firm action if fire is resumed."
Israeli forces have remained positioned around Gaza since they withdrew two weeks ago after destroying more than 30 tunnels, some of which extended under the border into Israel.
The conflict, which began in early July, has killed more than 2,000 Palestinians, leaving entire Gaza neighborhoods in rubble.
The violence has killed 67 people on the Israeli side, with militants in Gaza firing roughly 3,500 rockets toward Israel.
'Impossible demands'
In the talks, Israel was calling for Gaza to be demilitarized, demanding that Hamas, which controls the territory, and other militant groups lay down their arms.
Risheq said Monday that the group's weapons were "for self-defense" against Israel.
"But when we have our own Palestinian state with its own national army to protect its citizens, there will be no need for any party to carry any kind of weapons," he said.
Speaking on condition of anonymity Monday, a Hamas leader said the Israelis had "submitted impossible demands on the Palestinians such as the issue of demilitarization, destroying the tunnels and the issue of preventing Palestinians from developing their missiles technology."
The Israelis, he said, "want everything and want to give nothing."
He said the Palestinians had responded with a counterproposal offering Israel "full security in exchange of full opening of border crossings" or lifting the siege completely.
Dispute over blockade
But a senior Israeli official suggested to CNN that there were contradictions coming from the Palestinian side.
"How can Israel have full security while they're still digging terror tunnels and making rockets?" he asked, saying the Palestinians "can't cherry pick what they want."
Palestinians say Israel's blockade is throttling the economy of the small, impoverished strip of land and the lives of its inhabitants.
Among their demands are the rebuilding and reopening of Gaza's airport and the establishment of a seaport.
But Israeli authorities -- who retain control of Gaza's airspace, Mediterranean waters and their shared border -- say that releasing their grip on what goes into and out of the territory isn't feasible while Hamas and other groups are still building up their arsenals of weapons.
For information go to http://www.cnn.com