Memorial Hermann Prevention and Recovery Center Celebrates National Recovery Month with Motorcycle Ride and Barbeque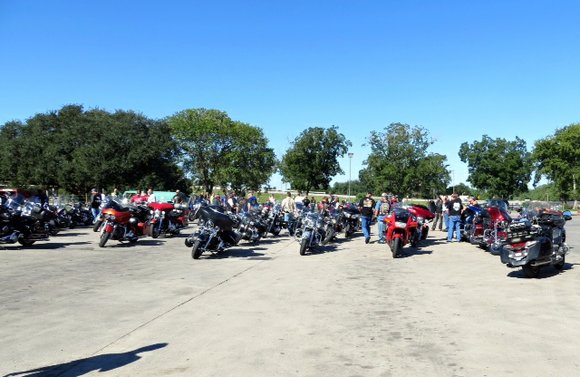 HOUSTON (August 19, 2014) - The Memorial Hermann Prevention and Recovery Center (PaRC) hosts its 9th Annual Ride for Recovery, a 100-mile motorcycle ride, to raise awareness of substance addiction and embrace recovery on Sunday, Sep. 21.
A first of its kind in the Houston area, the event, coordinated by the PaRC Alumni Association, offers an opportunity for people to get together, celebrate recovery, and let those suffering from addiction know "there is a solution." Starting at 8 a.m., the motorcycle ride meanders through northwest Harris, Montgomery, and Waller counties and culminates with a barbeque cookout, music, and testimonies from people who have been set free from addiction.
"We often hear the negative stories about alcoholism and drug abuse; but, there are a lot of positive stories out there as well," said PaRC Director of Business Development Jane Barnes, a motorcyclist and one of the Ride for Recovery founders. "Houston has a huge community of people who have turned their lives around and we want to let the world know there is hope!"
Motorcycle enthusiasts, families, friends, supporters, and community members are invited to join the festivities taking place at the PaRC, located near Memorial City at 3033 Gessner Rd.
In 1989, the federal Substance Abuse and Mental Health Services Administration designated September as "National Addiction and Drug Abuse Recovery Month" to foster education, celebrate recovery, and reduce the stigma attached to this devastating disease.
Incorporating the newest medical approaches along with proven treatment models and methodologies, PaRC is Houston's premier drug and alcohol rehabilitation center. Services include detox, residential treatment, intensive outpatient programs, an adolescent treatment program, family services, aftercare, 12-step meetings, and an alumni association.
For more information or to register, visit www.rideforrecovery.com or call the PaRC at (713) 329-7272. All proceeds from the event are donated to the Men's Center and The New Hope Women's Center, two community organizations supporting individuals suffering with alcoholism and addiction.
About Memorial Hermann
An integrated health system, Memorial Hermann is known for world-class clinical expertise, patient-centered care, leading edge technology, and innovation. The system, with its exceptional medical staff and more than 20,000 employees, serves to advance health in Southeast Texas and the Greater Houston community. Memorial Hermann's 12 hospitals include three hospitals in the Texas Medical Center, including the Texas Trauma Institute – a level I trauma center which houses the Life Flight® air ambulance – a hospital for children and a rehabilitation hospital, eight suburban hospitals, and a second rehabilitation hospital in Katy. The system also operates three Heart & Vascular Institutes, the Mischer Neuroscience Institute, three Ironman Sports Medicine Institute locations, cancer centers, imaging and surgery centers, sports medicine and rehabilitation centers, outpatient laboratories, a chemical dependency treatment center, a home health agency, a retirement community and a nursing home. As an Accountable Care Organization, the system also offers employers health solutions and health benefit plans through its wholly owned Memorial Hermann Health Insurance Company.
For more information, visit memorialhermann.org