Column Defending Cops in Ferguson Sparks Online Fury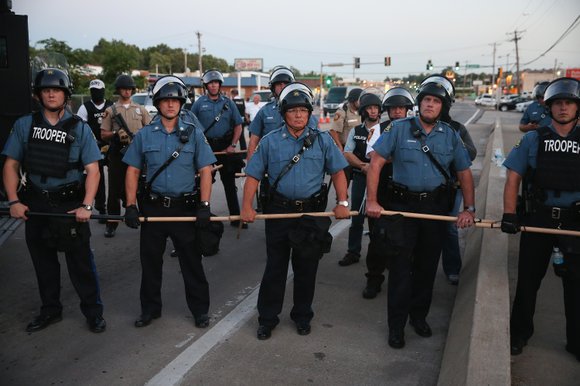 By Josh Levs
CNN
(CNN) -- In a single column, a veteran police officer has catapulted himself into the national debate over the death of unarmed teen Michael Brown in Ferguson, Missouri.
"I'm a cop. If you don't want to get hurt, don't challenge me," the Washington Post headline blares. The piece was written by Sunil Dutta, a 17-year veteran of the Los Angeles Police Department.
"Even though it might sound harsh and impolitic, here is the bottom line: if you don't want to get shot, tased, pepper-sprayed, struck with a baton or thrown to the ground, just do what I tell you," he wrote.
Dutta cautions against arguing, insulting, or screaming at officers, "and don't even think of aggressively walking towards me. Most field stops are complete in minutes. How difficult is it to cooperate for that long?"
If you believe an officer is violating your rights or bullying you, Dutta says, don't challenge him then -- save that for lodging a complaint later. "Do what the officer tells you to and it will end safely for both of you."
It took no time for the anger over his message to explode.
"The outrageous thing is not that he says it. The outrageous thing is that we accept it," writes Ken White of the blog Popehat, which tracks American legal issues.
"Do we have a justice system? By name, yes. Is it effective in deterring cops from abusing citizens or punishing them when they do? No... If you hope the cop will be charged criminally for misbehavior, you're going to be waiting a very long time for no result."
Dutta's message is to "shut up and take it, because even the slightest bit of intransigence is grounds for the cops to unleash a world of hurt," writes Benjamin Freed of the Washingtonian.
"To say that putting up a verbal argument warrants bringing out the billy clubs, stun guns, or actual guns only stokes what's been seen coming out of Ferguson in the past week -- images of peaceful demonstrators being met with a lines of officers rigged with military-grade equipment, marchers being fogged with canisters of tear gas, and people being slugged with rubber bullets after not moving quickly enough," Freed complains.
Authorities in Ferguson say force has been needed to stop the minority of "agitators" who have fomented violence, through gunshots and Molotov cocktails.
CNN.com users weighed in on social media.
"So, 'Do what I say or I will hurt/kill you?' How does that even remotely correspond with 'To Serve and Protect?'" Carter Gaddis wrote on Twitter, citing the police motto.
But Rhonda Heim wrote on Facebook, "I think an officer puts his life on the line on a daily basis. He wants to go home after his shift like everyone else. No one should challenge him."
In Dutta's column, published Tuesday, he writes, "Cops are not murderers. No officer goes out in the field wishing to shoot anyone, armed or unarmed."