Houston's Growing Economic Business Boom
Jo-Carolyn Goode | 8/26/2014, 7:11 p.m. | Updated on 8/26/2014, 7:11 p.m.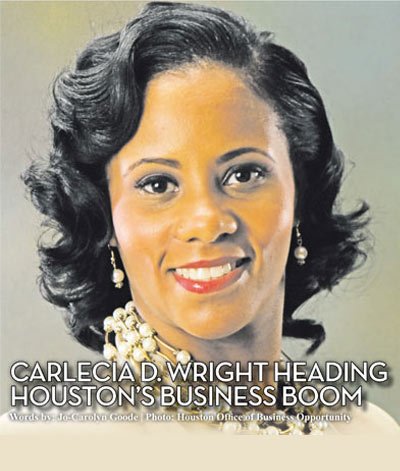 Among all the U.S. states Texas is one of the tops for business development. Data from the U.S. Census Bureau, BlackEnterprise.com, BlackDemographics.com and other sites indicates that Houston is one of the leading cities that is most profitable for black businesses and businesses in general. Noting Houston's diverse culture as one of the major variables for business growth. Houston also has another major feather in our hat that is increasing the business boom, the Office of Business Opportunity under the leadership of Carlecia D. Wright. With August being National Black Business month Houston Style Magazine took a closer look at the OBO by speaking with its Director Wright and finding out what's the fuel behind the economic business boom.
Before Wright's appointment by City of Houston Mayor Annise Parker in 2011, doing business with the city was somewhat of a mystery for smaller businesses. Many wanted to gain city contracts but didn't know what resources to utilize or even know the first steps to take. Enters in Carlecia D. Wright brining structure and transparency to the OBO resulting in more entrepreneurs, more certifications, more programs and events, and best of all, more contracts for business owners with the city.
"They have been tremendous accomplishments citywide as it relates to our supplier and diversity program and so we are really proud as a city," said Wright as she noted the $1.1 billion awarded to small businesses in awards and contracts in the last four fiscal years of Mayor Parker's administration. Of that $1.1 billion, $233.6 million of it went to black owned businesses.
The increase in businesses gaining city contracts has to do with eliminating a lot of the obstacles they once faced, mainly all the red tape and understanding the process. Wright and her team have taken the lack of not knowing what to do and broken it down in a manner business owners can comprehend. Everything from helping future entrepreneurs develop a business plan to obtaining that first city contract can be facilitated with some innovative programs by the OBO.
Programs like "I am Certified, Now What?" dives into giving business owners an understanding of how valuable being certified with city really is. Although certification is not needed to do business with the city or most entities, certification increases your chances of being successful according to Wright. "It adds value." Wright continued, "You become part of a network." Just as membership has always given one privileges, being certified by the city gives you access to a bevy of resources. Plus the certification is not just good for doing business with the city but it open doors to do business with Houston ISD, Port of Houston Authority, Houston Community College, Department of Transportation and the State of Texas.
Meet the Buyer and Industry Day programs brings business owners to the bargaining table where they can actual meet the key players in the game that hold the strings to city contracts. Meet the Buyer, held annually in December, connects entrepreneurs with 200 plus purchasing officials representing 20 or more departments that know what type of procurements their looking for future projects, a major bonus. While Industry Days let business owners get specifics on the buying process and opens the window for crucial connections to be made for future business dealings.