The All-Kid Voice Cast of the 'Peanuts' Movie Has Been Revealed
Willie Grace | 12/2/2014, 12:09 p.m. | Updated on 12/2/2014, 12:09 p.m.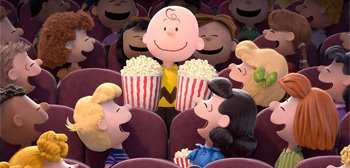 Though the full trailer for the Peanuts animated movie from Blue Sky Animation has already debuted, with Charlie Brown, his loyal dog Snoopy, and the rest of the gang heading to the big screen, we had yet to hear who was providing the voices for the animated characters. Well, we already knew that archival recordings of Bill Melendez would be used for the voice of Snoopy and his bird friend Woodstock, but what about all the kids? Well, producer Paul Feig (director of Bridesmaids and the Ghostbusters reboot) took to "The Today Show" to reveal a cast of child actors lending their voices to all of Charles Schulz's iconic friends. Read on!
Paul Feig posted to Twitter showing off all the kids in Peanuts (look at their t-shirts!):
Noah Schnapp (of Spielberg's new Cold War thriller) is voicing Charlie Brown, Hadley Belle Miller ("Sofia the First") is Lucy, Alexander Garfin (of the stage show "You're a Good Man, Charlie Brown) is playing Linus, Mariel Sheets is Charlie Brown's sister Sally, Noah Johnston (Monsters University) is Schroedger, A.J. Tecce (Raising Ethan) is Pig-Pen, Mar Mar ("Austin & Ally") voices Franklin, newcomer Venus Schultheis voices Peppermint Patty with Rebecca Bloom ("Annie") as her friend Marcie. There's also William Alexander Wunsch as Shermy, Anastasia Bredikhina and Madisyn Shipman as Patty & Violet and Francesca Capaldi ("Dog with the Blog") as Charlie Brown's crush Red-Haired Girl.
It's pretty cool that Fox rounded up a bunch of kids to voice all of the Peanuts characters. The question is whether or not their voice talents will match well enough to trick some of the older crowds who grew up with completely different voice talents bringing the animated specials to life. Considering how many lesser known actrs there are in this crew, it sounds like 20th Century Fox truly went with the most talented kids for the job, and that's great news. Watch the theatrical trailer for Peanuts right here while you wait for the film to arrive under a year from now on November 6th, 2015.
For more information go to http://www.firstshowing.net