Tommy Bahama Introduces First in a Series of Innovative Cookbooks Flavors of Aloha: Cooking with Tommy Bahama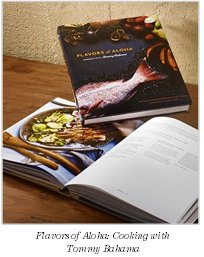 Tommy Bahama, the brand that celebrates the art of relaxed living is pleased to announce the release of its new cookbook, Flavors of Aloha: Cooking with Tommy Bahama. This is the first in a new series of culinary adventures that will explore a variety of cultural destinations and pay tribute to the colorful dishes of each locale. In keeping with Tommy Bahama's "aloha" spirit, Hawaii is the perfect place to begin a cooking expedition celebrating the natural ingredients and spices true to the islands.
"Tommy Bahama has established itself as the brand for people who choose a life that embraces relaxed and robust living," says Rob Goldberg, Executive Vice President Restaurants, Tommy Bahama. "Flavors of Aloha inspires these same sentiments, stirring fantasies of an endless vacation and giving readers the opportunity to taste a bit of the good life. The book includes beautiful photos that explore exotic locales, fabulous foods, fine wines, and cocktails hand crafted by Tommy Bahama mixologists that is truly a feast for the senses. Fans will be inspired to live vicariously from page to table and to appreciate their appetite for life as well as for food."
Tommy Bahama has partnered with best-selling author and American chef, Rick Rodgers to capture the essence of the rich cultural traditions of Hawaii. Rodgers has penned over 40 cookbooks, and his recipes have appeared in numerous publications including Food & Wine, Men's Health, and Fine Cooking. A much sought after celebrity chef and party planner Rodgers is a seasoned pro, expertly expressing the relaxed world–class cuisine that so embodies the spirit of Tommy Bahama.
A "feast for the senses," Flavors of Aloha contains more than 100 recipes including many signature dishes from Tommy Bahama's restaurant menu and incorporates the rich elements from land and sea used in soups and salads, meats, seafood, rice, and noodles. Simple and playful dishes allow readers to create meaningful meals while savoring the connection between food and fun. Harvest bounties highlighting the diverse Hawaiian culture and influences add to the recipes. The Citrus and Hearts of Palm Salad with Kumquat Vinaigrette, Salmon Filets with Ginger Glaze, Huli Huli Pork Tenderloin and Pineapple with Old-School Teriyaki Marinade, and the mouthwatering Kona Coffee Flan, for example, all have ingredients indigenous to the islands.
Flavors of Aloha: Cooking with Tommy Bahama welcomes food aficionados with fresh island style delicacies paired with fine wine and Tommy Bahama signature cocktail choices. As such, the appropriately matched, Forward, crafted by celebrated wine maker and co-owner of Covenant kosher winery, Jeff Morgan, further refines this epicurean experience. Morgan's insight is the perfect complement to Rodger's genius, elevating this cookbook to the highest level of distinguished taste.
This new cookbook from Tommy Bahama invites aspiring cooks of all abilities to escape to the kitchen, to explore different culinary destinations, and to duplicate inventive contemporary cuisine in the most comfortable of environs. Hawaii, the Aloha region, is the first encounter, as Tommy Bahama launches its latest gastronomic journey in the luxury of one's own home. Future quests to discover the best in culinary travel will be as equally exhilarating as this first in the series because the dream doesn't have to end.
Available at Tommy Bahama retail stores and tommybahama.com, Flavors of Aloha: Cooking with Tommy Bahama presents a stunning pictorial and a modern island menu that will engage the senses and delight Tommy Bahama enthusiasts that have come to expect discriminating taste from this iconic lifestyle brand.
For more information, visit tommybahama.com.