Common's Nobody's Smiling Tour Brings Fresh Elements to the Hip Hop Tour Scene
Dawn Paul | 12/4/2014, 7:55 p.m. | Updated on 12/4/2014, 7:55 p.m.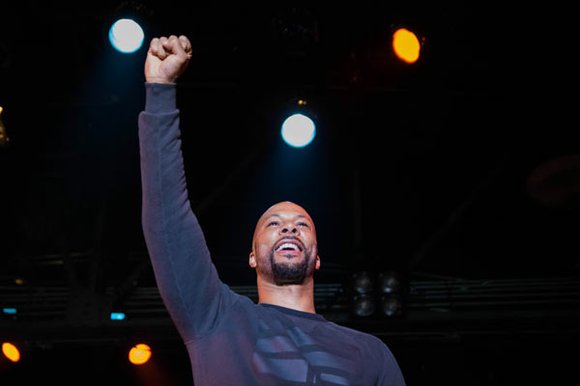 "Nobody's Smiling" is Common's latest album and he's promoting it on a 13-date tour. He made a stop in Houston this past Tuesday night. Common's Chi-Town flavor and lyrical genius set the Warehouse Live stage on fire. Houston has been in anticipation for Common's "Nobody's Smiling" tour and his show left me speechless. I have nothing but respect for Common and his craft, not just because of his musical talents, but also because of how he treats his fans and people behind the scenes. Common sets the standard for how all artists should embrace and appreciate their fans on and off the stage. The "Nobody's Smiling" tour brings fresh elements to the hip hop tour scene I haven't seen in a long time.
New Orleans native and hip hop artist and producer Jay Electronica opened the show like only he does with his unique brand of performing style. Jay has major love from Houston and did something that you don't see many artists do…he invited more than 20 Houston fans on stage with him while he performed one of his hits. Jay is one of those artists who doesn't like to be kept in a box when it comes to his music and performing. In every word, we felt his genuine love and appreciation for Houston.
Not only did Common sing favorites from his current "Nobody's Smiling" project, but he also brought a little hip hop nostalgia to the tour with a surprise performance from the Geto Boys. The "Nobody's Smiling" tour gave props to hip hop's Notorious B.I.G., as well as other hip hop artists. Common always shows love to the ladies and one lucky female fan was brought on stage and he did a little freestyling for her. The freestyling didn't stop there and he did some lyrics showing Houston some major love, mentioning JJ Watt, Third Ward and Frenchy's Chicken. The whole show was nothing but high energy. His genuine appreciation for the Houston fans came out through his performance.
Though he is knocking doors down in Hollywood, Common has not turned "Hollywood" and he still pays tribute to his Chi-Town roots. He's made his mark in the music scene and in the acting game as well, but he has not forgotten his Chicago roots and his love for people. I respect him in that he has not let the Hollywood opportunities change him and he has stayed true to who he is and his craft. Not only does Common's "Nobody's Smiling" tour entertain, but the music from this album keeps us socially conscious. For upcoming '"Nobody's Smiling" tour dates and updates about Common, visit http://www.thinkcommon.com/.