Houstonian Carlos Wallace: Author, Manager, Philantrhropist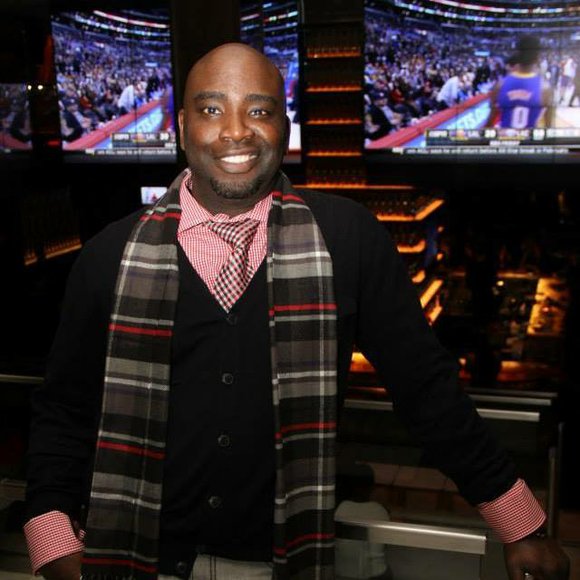 In 2007, Union Pacific Engineer and Local Organizer Carlos Wallace set out to launch his own Entertainment Management company. The lofty goal, while inspired by a passion to create a business that would breathe fresh life into the comedy industry, was also fueled by a series of traumatic life events that left Wallace fighting for survival. Nearly eight years later, Houston Style has learned those personal challenges proved no match for this high-powered industrialist. Carlos turned his company, Sol-Caritas, into one of the country's most prestigious and highly respected entertainment enterprises. From Houston to Dallas, New York, Los Angeles and Atlanta, Sol's 5-star productions have unseated audiences in the most renowned venues, establishing the company as a force to be reckoned with.

We caught up with Carlos in between conference calls and meetings ahead of his "Ladies In Attendance" comedy show. The event will unfold in front of an all-female audience at Houston Improv, a first of its kind in the comedy industry and a perfect introduction to our interview:
HSM: Carlos, you are known for coming up with unique, fresh concepts when it comes to producing comedy shows. But a "women only" audience? At a comedy show? This one may tip the innovation scales! What inspired this idea?
CW: Well actually, I would love to take credit for the concept but in the interest of full disclosure, the idea was inspired by two of my favorite performers: Teddy Pendergrass and Big Daddy Kane. They were the only two entertainers (to my knowledge) that produced shows exclusively for the ladies and were very successful at it. Now, Sol-Caritas is the first to produce a comedy show for an all-female audience, so we are proud of that! "Ladies In Attendance" (Which stars Billy Sorrells, Comedian Eddie B, Ken Boyd and Chris Sosa) is ultimately our way of showing appreciation for our mothers, daughters, wives, girlfriends, sisters, grandmothers… to give credit to the ladies we love and admire and appreciate for all they do to enrich our lives.
HSM: You did that also with your "Men All Pause" show - except that was an all-female line-up. I sense a pattern here.
CW: (Laughing) Well, I won't say that is by design, however I can see why it would appear as if we have an affinity toward the "girl power" movement. And you know what, that is true to a large extent. "Men All Pause" is a show that celebrates talented, strong, very funny, and accomplished women. We time the production in Houston to coincide with Breast Cancer Awareness month, a cause that is very near to my heart and important to Sol-Caritas.
Two of the most important people in my life were my mother and my grandmother. These women instilled values and principles in me that literally guide me through every aspect of my existence. And their lessons have taught me to appreciate and respect all women in my life (personally and professionally). As a manager, promoter and comedy show producer I now have an effective way to show my appreciation.
HSM: Your "Houston's All-Stars of Comedy" franchise has sold out every show since its inception 3 years ago. I'm sure a lot of work goes into producing these shows at the Houston Improv every month. What is the secret to the show's success?
CW: Don't become so blinded by the success of the last show, you begin slacking on the next show. A promoter, a concept, any monthly (weekly, annual) event is only as good as the last show and word of mouth. You give the people something good to talk about and they will spread the word as easily as they would if you let them down. Do everything in your power, not to let them down. You will sell out each and every time. We encourage feedback and take every single comment seriously. The people determine if your show is successful. You must keep them happy.
HSM: Philanthropy is an integral part of Sol-Caritas' platform and a very important aspect of your personal life. Talk to us about your commitment to altruism.
CW: Sol-Caritas by its very name is all about charity (Sol-Caritas means "Elite Giving"). We support quite a few charities including the American Diabetes Association, American Cancer Society, Yele Haiti, Lupus Foundation of America, and several local worthwhile charities throughout Houston. Each of the major charities I named above is very personal to me. My mother who was my best friend died of complications from diabetes; my father died of cancer; my girlfriend is Haitian and was directly impacted by the earthquake in Haiti, which I cannot believe, was 4 years ago! You acquire a greater degree of empathy, compassion and understanding when you come face to face with some of life's tragedies whether it is directly or indirectly. I never believed in fair weather donations; contributing to a cause when it is the top story at the time. If you take on a cause, take it on forever, because until they find a cure for cancer or diabetes or lupus someone will ALWAYS need help. Until Haiti is rebuilt, someone will need our assistance.
HSM: In addition to your busy schedule as President of Sol-Caritas, you are also an Engineer for Union Pacific, an Organizer for the United Transportation Union, an active Public Speaker and a mentor. Now, we can add Author to your list of accomplishments. Carlos, when did you have time to write a book? Your time-management skills must be legendary!
CW: Well, I am actually pretty proud of my ability to multi-task! I just have so much I want to accomplish, every single day, and my personality is such that there is no room for excuses. If it has to get done, it must get done. I wrote the book "Life Is Not Complicated, You Are" during down time at work, on my days off, while on vacation, in between meetings. (Laughing). You get the point. You just have to make it work. However I would be grossly, audaciously remiss if I took all the credit for the shows, the book, my career. I have so many people (from staff, to friends and loved ones) who make this all possible. I'm serious. There is no way I could run Sol without help. Even with "Life Is Not Complicated" while I was writing, I had a few people who I trusted reading chapters, because I knew they would be honest with me about content. Not one time did any of those people ever tell me to stop sending them chapters or talking about the book. If they were tired of it, I sure never knew! It is that kind of support that drives me. I preach that all the time. No one makes it to the top by themselves. I dedicated an entire chapter to this concept.
HSM: What exactly is the book about?
CW: You. The person reading this article. Me. It's about us; everyday people who face challenges, adversity, obstacles throughout our daily lives. It breaks down what sets us apart from those who choose to let these challenges level them (because it is a choice). And what sets each of us apart is how we use everything we have learned (good and bad) to build us up. We all control the way we look at challenges. We can either be leveled by them or we can become empowered. I lost my momma, daddy and grandparents before I was 36 years old. I lost my closest, dearest relative (my uncle Rube Earl) last year. In the last decade I've lost my job, a marriage and a whole lot of money as I tried to build Sol-Caritas. But I kept pushing. I had to. I couldn't let myself down, my children down. I had to do whatever it took to make sure my parents and grandparents would have been proud of me. If that is not enough to drive your will to survive I don't know what is. And we all have those "reasons". There is always a motivating factor that encourages us to push, to fight, to overcome. You just have find and use them. That is what "Life Is Not Complicated" is about.
HSM: That sounds like the perfect book for the times we are living in now! Before I let you go, can you tell us what other projects Sol-Caritas is working on?
CW: We recently began building our Sol-Poetry division, headed up by Kayenne Nebula, who is a prominent artist and leader in the Spoken Word genre. I have to admit, even I am stunned by the extraordinary success of this Sol effort. Thanks to a collaboration with Khalid "The Future", one of Houston's hottest spoken word artists and co-founder of "Poetry or Die" our first show "Queens of the Mic" was an OVER sold out success at Houston Improv. We are working on "Kings of the Mic" now, scheduled for January 21 at Houston Improv. And we are also bringing the "Men All Pause" show to New York's Broadway Comedy Club January 16, thanks to a partnership with New York based literary company and PR firm Million$Pen, Ink. Sol also inked a deal to bring "Ladies In Attendance" to Broadway Comedy Club in 2015. And February we will be celebrating the anniversary of the release of "Life Is Not Complicated"! It will be a week long occasion that includes a comedy show, book signing and birthday party. Hope you can be at one or all of the events!
HSM: Consider it done Mr. Wallace. Wouldn't miss it for the world. I have a feeling this will not be the last time we speak. There is much more on the horizon for you and Sol-Caritas!
CW: By the Grace of God.
HSM: Thank you for spending some time with Houston Style.