Israel Folau: Rugby code-breaker in a league of his own
Willie Grace | 12/10/2014, 9:43 p.m. | Updated on 12/10/2014, 9:43 p.m.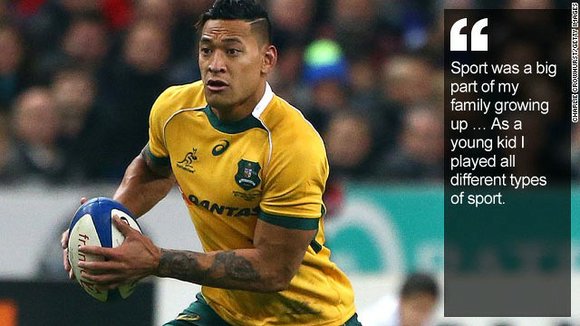 (CNN) -- In the twinkle of an eye, Israel Folau has accomplished what most athletes would be happy to achieve in an entire career -- and in his case he has done it in three sports.
Since bursting onto the scene in 2007, the Australian has made his considerable presence felt in not one but three oval-ball codes, weighing in with match-winning performances in Rugby League, Aussie Rules football and, most recently, Rugby Union.
Still only 25, Folau is now reaching his athletic peak and keen for the second half of his career to be just as successful as the first in which he has become a try scorer par excellence.
"Everything's going to plan, the way I would have liked it," Folau told CNN's Human to Hero series.
"There's hopefully a long way to go in my career."
Affectionately known as "Izzy," Folau was born in the Sydney suburb of Minto to parents of Tongan descent. One of six siblings, Folau recalls being encouraged to participate in sports from an early age.
"They were a very, very big part of my career growing up. I think probably all of my determination and eagerness to want to play professional sport came from my family."
Folau began his professional Rugby League career at the age of 17, scoring a record 36 tries for Melbourne Storm in his rookie season.
His raw talent earned him a call-up to the national squad becoming the youngest-ever player to represent the Kangeroos -- though his record of 18 years and 194 days was recently eclipsed by Sione Mata'utia.
The following year, he rubber-stamped his status as an emerging star with a further 37 tries in 39 games, this time for the Brisbane Broncos.
It was incredible start by any measure, but Folau took it all in his stride.
"I probably realized when I was maybe 13 years of age that I could make a living out of playing professional sport and from that time on it was really a goal for me do that as soon as I can."
Intimidating presence
Weighing in at just over 100 kg (220 lbs) and standing 1.95 m (6'5") tall, Folau is, like his childhood idol, former New Zealand winger Jonah Lomu, an intimidating physical presence on the pitch.
A hefty frame allied to explosive turns of speed make Folau a real handful for opposition defenses. He is also incredibly agile for a big man, capable of salmon-like leaps to catch the high ball.
"I get excited when the ball goes up in the air. I try to always get up there ... I get a buzz out of it. I am always trying to work at it."
Having excelled at both club and international levels -- he scored six tries in eight appearances for the Kangeroos -- Folau inevitably attracted the attention of Rugby Union scouts.
But rather than making what has become a routine switch between the 13 and 15-man codes, Folau opted to take a detour, signing for Australian Football League (AFL) side, the Greater Western Sydney Giants in 2011.