Mothers recount their sons' deaths as protests continue
Willie Grace | 12/10/2014, 9:48 p.m. | Updated on 12/10/2014, 9:48 p.m.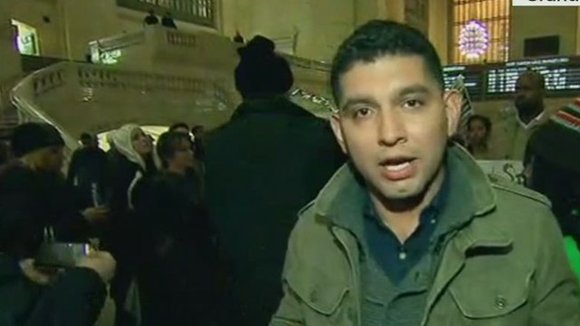 (CNN) -- They spoke of loss, of heartbreak and of their search for justice.
Six mothers gathered at a church in Washington to share their pain: the pain of losing their sons to a police officer's bullets.
There was Valerie Bell, whose son Sean was fatally shot, hit by bullets dozens of times.
"November 25, 2006, 50 shots were shot at his car for no reason," she said. "They didn't take my son to be a human being. I've never heard of a person shooting a dog or an animal 50 times."
There was Collette Flanagan, who buried her son Clinton Allen.
"My only son, Clinton Allen, was shot and killed by a Dallas police officer on March 10, 2013. Clinton was only 25 years old, and he was shot seven times, once in the back, and he was unarmed."
There was Mary Ann Hopkins, who struggled to speak about her son Gary, a sophomore in college.
"A police officer who had been in trouble many times before pulled him off the ledge of the car," she said. "Another officer comes around and says he saw an altercation to grab for the officer's gun and shot him in the chest."
Theirs is the pain that's now fueling the protests raging across the nation -- some peaceful, some not quite so.
Bigger than Ferguson
Organizers are calling this a "Week of Outrage." But as demonstrations pop up around the country, one thing is clear:
This is bigger than Ferguson, Missouri, and New York.
The protests over police brutality that the recent deaths of unarmed black men may have started in those cities, but the experience is hardly limited to those communities.
"We share an unspeakable pain and special bond at the arms of losing a loved one at the hands of reckless, callous and malicious police officers," Dorothy Copp Elliott said at the First Trinity Lutheran Church gathering on Tuesday.
"Trayvon Martin, Michael Brown and Eric Garner's deaths have caused men and women of conscience and all colors to stand up and say, 'Enough is enough.' "
Medical students: It's a 'public health crisis'
Protesters across the country Wednesday flooded Twitter with photos of demonstrations, using the hashtag #whitecoats4blacklives.
Physicians for a National Health Program said the protests showed medical students taking a stand to show "racial violence as a public health crisis."
"Racial bias and violence are not exclusively a problem of the criminal justice system. As we have seen in Ferguson, Mo., New York, and countless other places, bias kills, sickens, and provides inadequate care," the organization said in a statement.
In Nashville, a group of demonstrators wearing white coats shut down a busy street near the Tennessee state capitol for more than 30 minutes, CNN affiliate WKRN reported.
Harvard Medical School's Twitter account posted photos of students and faculty lying in an atrium at the school during a "die-in" protest.
At the University of California, San Francisco, school officials praised students for protesting.