NTSB: Stall warning went off before plane crashed into houses
Willie Grace | 12/10/2014, 9:56 p.m. | Updated on 12/10/2014, 9:56 p.m.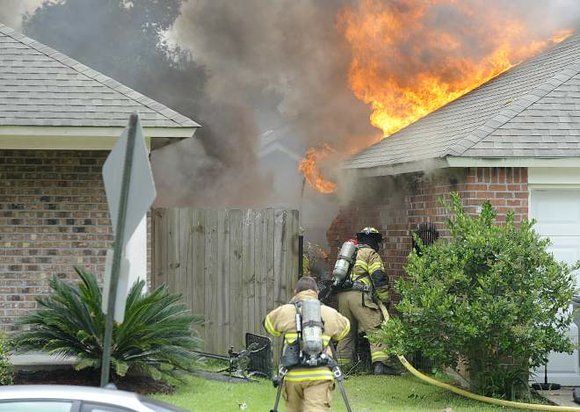 (CNN) -- A stall warning went off in the cockpit before a plane plunged into a Maryland subdivision, killing six people in a fiery crash.
But Robert Sumwalt, a member of the National Transportation Safety Board, said investigators haven't yet pinpointed what happened when the automated aerodynamic stall warning first sounded. And they don't know what caused Monday's crash.
"This is really just day one of the boots on the ground phase of the investigation," he told reporters Tuesday. "There's a lot that needs to be done."
Preliminary information from the cockpit voice recorder showed that the stall warning started sounding about 20 seconds before the recording stopped, Sumwalt said.
Those warnings generally go off when there's not enough air going over the top of the plane's wings to provide lift, he said.
Before the crash, the plane had slowed to 88 knots (about 100 mph) and witnesses saw the aircraft moving erratically up and down and from side to side, he said.
So far, investigators haven't found any evidence of a catastrophic engine failure, an in-flight fire or a bird strike, Sumwalt said.
The crash occurred Monday morning in Gaithersburg, Maryland, as the twin-engine Embraer EMB-500/Phenom 100 approached Montgomery County Airport.
Investigators say a mother and two children were killed when the plane struck their home.
Michael Rosenberg, CEO and founder of a North Carolina clinical development company called Health Decisions, was identified as the plane's pilot.
The pilot, who had logged 4,500 flying hours, was involved in a prior accident in March 2010, Sumwalt said.
Monday's flight originated in Chapel Hill, North Carolina, close to the company's headquarters in Durham.
Chijioke "Chiji" Ogbuka, another Health Decisions employee, also was killed in the crash, the company said in a statement Tuesday. David Hartman, vice president of clinical pharmacology at Nuventra, a consulting firm, was also a passenger on the plane and died in the crash.
Husband: I lost the love of my life
Ken Gemmell, whose wife and two young sons -- one a toddler, the other an infant -- were killed when the plane crashed into their home, said in a statement posted on Facebook that he was at a loss for words to describe the enormity of the tragedy.
"We lost Marie, the love of my life and college sweetheart, and our two young, innocent and joyful sons -- a loss that no person should ever endure. The outpouring of support has been overwhelming, and my daughter and I are appreciative for the prayers and well wishes from friends, neighbors and the community," he wrote. "We also appreciate the dedication and hard work of the firefighters, police and other first responders who did everything in their power to try to save my family during this horrific event."
Plane went off runway in 2010
FAA records show that Rosenberg, who died in Monday's crash, piloted a small plane that left the runway during a landing at the same airport on March 1, 2010. The plane skidded 100 feet off the runway and came to rest in trees, nose down in the mud, the NTSB report says. There was one minor injury, the report added.
In Monday's incident, the plane went down about a mile from the airport, hitting three houses in all. The airport is about 25 miles northwest of Washington.
Scott Manseau told CNN affiliate WJLA that he watched in disbelief from a parking lot as the plane seemed to struggle to maintain altitude.
"And as I'm watching him, he goes hard over to the left, and then very hard over to the right," Manseau said. "And I thought, well, that guy could be in trouble."
Witness Fred Pedreira, 67, told WJLA the plane appeared to be out of control when it crashed.
"This guy, when I saw him, for a fast jet with the wheels down, I said, 'I think he's coming in too low,'" said Pedreira, who lives near the crash scene. "Then he was 90 degrees -- sideways -- and then he went belly-up into the house and it was a ball of fire. It was terrible."
For more information go to http://www.cnn.com