Grenades, gunfire as heavily armed police storm Sydney cafe
Willie Grace | 12/15/2014, 10:47 a.m. | Updated on 12/15/2014, 10:47 a.m.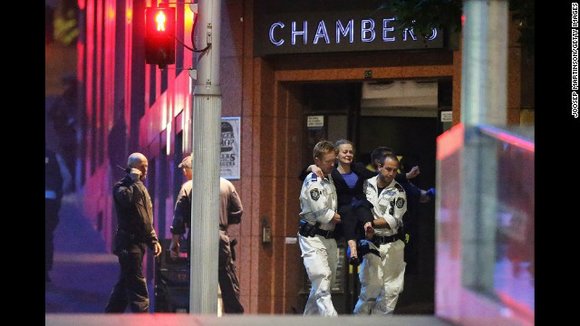 (CNN) -- Dramatic scenes ended a tense hostage situation early Tuesday in Sydney, with sounds of an explosion and gunfire as Australian police stormed a cafe where a gunman had hours earlier taken more than 10 people hostage.
"The whole moment seemed to begin by the escape by our count of six or seven hostages; they ran out from the right-hand side of the cafe and flew down the steps and into the arms of the waiting police," Channel 7 reporter Chris Reason told CNN.
"At that point there were a couple of minutes of silence, a police unit moved in; we could see them in dark uniforms, night-vision goggles on, looking toward the door. There was a shot fired -- we think that at that point that it was the gunman firing a shot. We heard from one police officer saying that a hostage was down and at that point the police moved in," Reason said.
"We saw a lot of explosive material -- flash bangs as they're called, stun grenades to try to disrupt and startle the gunman as police units moved in from both sides of the cafe to try to get him before he could do any further damage."
Live footage from the scene later showed heavily armed police running toward the Lindt Chocolate Cafe before at least four people were carried away on stretchers.
Channel 7 reporter Sean Berry said the scene had been quiet for several hours before police swarmed the area.
"All of a sudden, gunfire, heavily armed police officers -- police en masse -- and those hostages (were) beginning to be brought out," he said.
On any ordinary workday, the scene in Sydney would have been packed with people crisscrossing Martin Place on their way to work, home and shops.
But this week before Christmas, the inner-city streets fell silent.
"It is eerily quiet for the center of the city, which is normally humming with traffic and pedestrians. ... People would be normally walking the streets. They've roped off several blocks around Martin Place," said CNN's Anna Coren, who was about a block from the scene.
Martin Place is a paved traffic-free zone, a pedestrian-friendly promenade a few blocks from the ferry terminal at Sydney Harbor. It's where people go to meet, have coffee and catch a train.
Heavily armed police
Outside the Lindt shop, heavily armed police, some in camouflage gear and armed with sniper rifles, had taken positions as negotiators attempted to talk to the man inside, since identified as Man Haron Monis, also known as Sheikh Haron, a self-styled Muslim cleric.
Passers-by were herded back behind police barriers, while surrounding buildings were evacuated.
Opposite the Lindt shop is the entrance to the Martin Place underground train station, where trains stopped running during the siege.
Beyond the train station are the studios of Australian network Channel 7, whose huge glass windows act as the backdrop for early-morning programming, and where crowds are encouraged to gather.
In the early hours of the standoff, the network, a CNN affiliate, turned its cameras around to film across the street. It captured the images that Channel 7 producer Patrick Byrne described as "shocking and chilling."