Grenades, gunfire as heavily armed police storm Sydney cafe
Willie Grace | 12/15/2014, 10:47 a.m. | Updated on 12/15/2014, 10:47 a.m.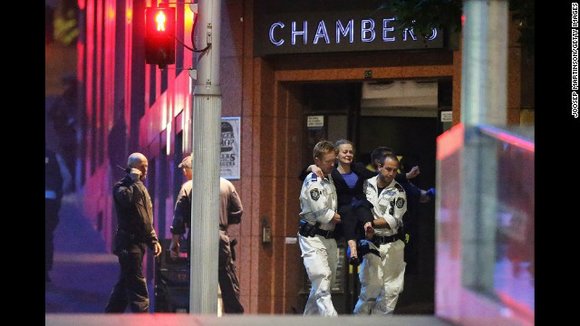 "People were putting their hands up against the panes of glass at the cafe. This was just extraordinary," Byrne told the Australian Broadcasting Corp.
Moments later a black flag bearing white Islamic writing was pressed against the window, drawing gasps from the newsroom, he said.
"We've shut off the monitors that face onto Martin Place for fear that people inside the cafe might be able to see the pictures broadcast," Byrne said at the time.
'Surreal' scene
Few live images of the cafe were broadcast amid police warnings not to disclose operational matters.
Macquarie Radio Network reporter Glenn Wheeler described the scene as "very surreal."
"There are literally hundreds or thousands of people wandering around with this expression of bewilderment," he told 2GB radio station. "We can't believe this is happening."
He said hundreds, if not thousands, of people had assembled in nearby Hyde Park after being told to leave the area around Martin Place.
Wheeler recounted a conversation he had with two German tourists who said, "We thought Sydney was safe."
It was a sentiment that was apparent in the street and on social media.
While Australia's operating under a "high" terror alert, a high-profile attack in Sydney's central business district was unexpected and unprecedented.
Authorities are not explicitly referring to the incident as a "terror attack," but New South Wales Police Commissioner Andrew Scipione said police are on "a footing that would be consistent with a terrorist alert."
Sydney residents expressed their shock and dismay.
"It's probably the first time in Australian history that something this major in regards to a terrorist threat has happened," Joshua Martin told Reuters.
'High' terror alert
The hostage situation follows dozens of police terror raids in the city that have strained relations with the local Muslim community.
Amid reports that as many as 100 Australians had left the country to support ISIS' quest to create a so-called Islamic State, authorities introduced tough new terror laws.
The new regulations give authorities the power to imprison people for "advocating terrorism." They also criminalize travel to areas deemed by Australia's foreign minister as "no-go" zones, and impose stiff penalties for Australian citizens who leave the country to engage in foreign wars.
In September, Prime Minister Tony Abbott raised the country's terror threat level to "high" but said there had been "no specific intelligence of particular plots."
"What we do have is intelligence that there are people with the intent and capability to mount attacks," Abbott said. A week later, he announced a terror plot to decapitate members of the public had been foiled.
For more information go to http://www.cnn.com