Can Rafael Nadal's mind conquer his ailing body in 2015?
Willie Grace | 12/16/2014, 3:40 p.m. | Updated on 12/16/2014, 3:40 p.m.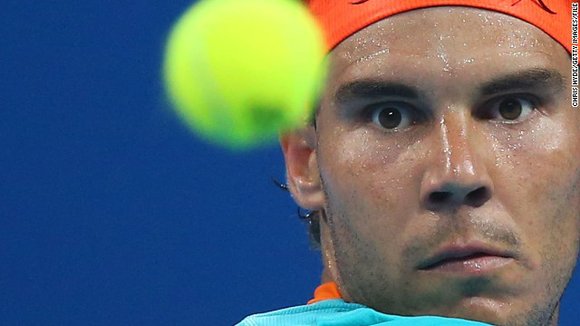 (CNN) -- Rafael Nadal landed a record extending ninth French Open title this year and also reached the final of the Australian Open. But typical for the Spaniard in recent campaigns, those grand slam accomplishments mingled with further health woes.
Looking back on his 2014, it's no wonder, then, that Nadal utters: "Too many things (happened) to be happy during" the whole year. "That's part of my life, though. It's happened a few times in my career."
Indeed.
And in keeping with Nadal's approach during his recovery from an avalanche of afflictions in the past, he vows to "keep working hard."
"Now I have a month to prepare for the 2015 season, and that's my goal," the 28-year-old told CNN's Open Court in late November shortly before the groundbreaking ceremony of the Rafa Nadal Sports Center and Academy.
"I'm going to work as much as I can, hope to be healthy for that. If I am healthy, I am confident that I can come back strong again."
Jimmy Arias, a former top-five player who made the semifinals at the U.S. Open and quarterfinals at Nadal's beloved French Open in the 1980s, isn't about to disagree.
"Ever since he came onto the tour, he had all the markings of a guy that would be done with tennis by 26, 27, because his game was such a grind mentally and physically," Arias, now a tennis analyst for several networks, told CNN.com.
"He's obviously outlasted that age. He's made of sterner stuff than most of us because he's able to keep coming back from injuries and long layoffs and continues to dominate.
"Now, you get the sense that he's going to be as always -- if he's physically fit.
If Nadal's body might be giving him a few problems, his mind remains as strong as ever. It's his psychological strength that sets him apart from the rest, according to Arias.
"I would say he's the greatest mental player in the history of the sport. Not strategy, necessarily, but the ability to play every point as if that's the most important one you've ever played, and do it every match."
Nadal is a veteran at coming back, having been slowed by, most notably, injuries to both knees.
However, this year saw the 14-time grand slam champion miss a chunk of time due to a back problem, wrist complaint and appendix surgery, in that order.
It all began at the Australian Open in January, when Nadal hurt his back while warming up in the final against Stan Wawrinka.
Holding a 12-0 record without conceding a set to the Swiss heading into the contest, a hampered Nadal fell in four sets with the ordeal leaving him in tears.
Recently he has undergone stem-cell treatment to aid his back after the same therapy, he said, helped his problematic, famous knees.
The back bothered Nadal, he added, throughout 2014.