Macy's ad Make-A-Wish Team to Grant "Wishes Across America" During National Believe Day Celebration
On December 12, Chelsea receives wish enhancements in Houston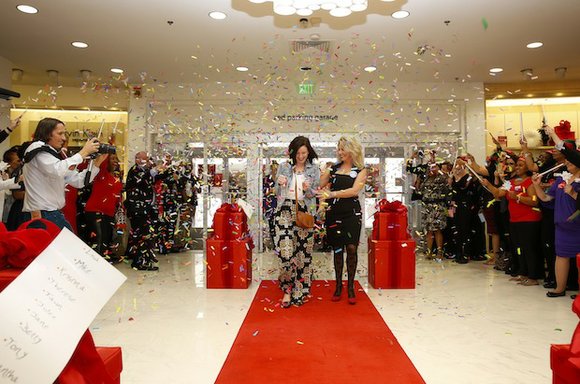 WHO/WHAT: The season of giving continues with Macy's sixth annual National Believe Day, a day that aims to inspire Americans to spread the spirit of generosity during the holiday season. Macy's and Make-A-Wish® Texas Gulf Coast and Louisiana team up to provide a red carpet style sendoff party for 18-year-old Chelsea whose wish to dance with the Rockettes in New York City will be granted December 14-17. Chelsea, who has been diagnosed with Cystic fibrosis, will spend the day at Macy's Houston Galleria.
Don't miss her arrival by limousine, where she will be escorted by Make-A-Wish representative Chrissy Mafrige and met with music from the students of Atherton Elementary School and by Macy's associates for an afternoon of fun and style.
Special surprise guests include the Rockettes from the Houston Hobby Center, who will assist Chelsea with her makeover and personal shopping experience.
WHEN/ Friday, December 12, 2014 at 12:30 p.m.
WHERE: Macy's Houston Galleria
2727 Sage Rd
Houston, TX 77056
MORE: Everyone can join Macy's and Make-A-Wish as wish celebrations unfold through the new interactive Believe Together Hub – macysbelievetogether.com – which allows anyone to view videos, tweets, posts and photos posted on social media to view in real time as wishes are granted on National Believe Day.
To participate, log onto one of your favorite social networks (Facebook, Instagram or Twitter), share the most special moments of Chelsea's wish enhancement celebration using the hashtags #MacysBelieve and #ChelseaTX, then view the wish unfold on macysbelievetogether.com. Even those who don't attend can participate by sending a special message via social media using the same hashtags or sharing content directly from macysbelievetogether.com.
Macy's Believe campaign invites kids of all ages to bring their stamped letters to Santa to their local Macy's store, or visit macys.com/believe to create and send a letter to Santa online. For every letter received now through Dec. 24, Macy's will donate $1, up to $1 million, to Make-A-Wish. For National Believe Day, Macy's is offering a double donation – for every letter received in-store and online on Friday, Dec. 12 only, Macy's will donate an additional $1 to Make-A-Wish, up to an extra $1 million, above the existing $1 million campaign goal.
In addition to Chelsea's wish, Macy's will help Make-A-Wish grant more than 50 special wishes across the country to create a day of "Wishes Across America" for children with life-threatening medical conditions.
About Macy's
Macy's, the largest retail brand of Macy's, Inc. (NYSE:M), delivers fashion and affordable luxury to customers at approximately 800 locations in 45 states, the District of Columbia, Puerto Rico and Guam, as well as to customers in the U.S. and more than 100 international destinations through its leading online store at macys.com. Via its stores, e-commerce site, mobile and social platforms, Macy's offers distinctive assortments including the most desired family of exclusive and fashion brands for him, her and home. Macy's is known for such epic events as Macy's 4th of July Fireworks® and the Macy's Thanksgiving Day Parade®, as well as spectacular fashion shows, culinary events, flower shows and celebrity appearances. Macy's flagship stores including Herald Square in New York City, Union Square in San Francisco, State Street in Chicago, Dadeland in Miami and South Coast Plaza in southern California are known internationally and leading destinations for visitors. Building on a more than 150-year tradition, and with the collective support of customers and employees, Macy's helps strengthen communities by supporting local and national charities giving more than $70 million each year to help make a difference in the lives of our customers.
About Make-A-Wish
Make-A-Wish® grants the wishes of children with life-threatening medical conditions to enrich the human experience with hope, strength and joy. According to a 2011 U.S. study of wish impact, most health professionals surveyed believe a wish-come-true can have positive impacts on the health of children. Kids say wishes give them renewed strength to fight their illnesses, and their parents say these experiences help strengthen the entire family. Based in Phoenix, Make-A-Wish is one of the world's leading children's charities, serving children in every community in the United States and its territories. With the help of generous donors and more than 27,000 volunteers, Make-A-Wish grants a wish somewhere in the country every 37 minutes. It has granted more than 254,000 wishes since its inception in 1980;14,247 in 2014 alone. Visit Make-A-Wish at wish.org to learn more.
For more information about Macy's Believe campaign and National Believe Day, please visit macys.com/believe.