Sydney cafe siege: What we know, what we don't know
Willie Grace | 12/16/2014, 3:40 p.m. | Updated on 12/16/2014, 3:40 p.m.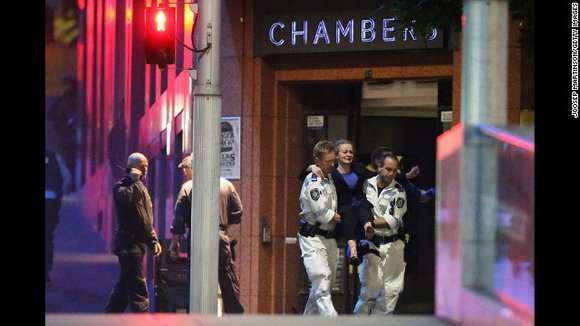 (CNN) -- The cafe siege in the heart of Sydney ended early Tuesday with the death of the gunman and two of his hostages -- but a great deal of unanswered questions remain.
"This has been an absolutely appalling and ugly incident," Australian Prime Minister Tony Abbott said, noting that Sydney had been "touched by terrorism for the first time in more than 35 years."
Details have emerged about the two hostages who died amid the siege's chaotic final moments -- and about the man who held them and others captive.
But with police still investigating what happened during the 16 long hours of the hostage taking, here's a summary of what we know and don't know about key aspects of the story:
THE VICTIMS
What we know: Authorities have identified the two hostages who were killed: Katrina Dawson, 38, and Tori Johnson, 34. A growing number of tributes are being paid to Dawson, a lawyer, and Johnson, the manager of the cafe. Dawson, a mother of three, worked down the street from the cafe. Johnson had been employed by Lindt for more than two years.
What we don't know: How exactly they died. Unconfirmed reports in Australia media suggest both Dawson and Johnson may have been killed trying to protect others. The Australian Broadcasting Corporation reported that Johnson was trying to wrestle the gun from the hostage taker. The Courier Mail reported that Dawson was trying to defend a pregnant colleague. Police have declined to comment on the reports, saying what happened is still under investigation.
THE GUNMAN
What we know: The hostage-taker has been named as Man Haron Monis, a 50-year-old man who was born in Iran and settled in Australia. Australian Prime Minister Tony Abbott described Monis as "a deeply disturbed individual (with) a long history of crime, a long history of mental instability and infatuation with extremism." He pleaded guilty last year to writing offensive letters to the families of Australian troops. He was also facing charges of being an accessory to murder, as well as over 45 sexual and assault related offenses, according to authorities.
What we don't know: Why he wasn't being more closely monitored? Abbott summed up the questions on many people's minds Tuesday when he asked at a news conference, "How can someone who has had such a long and checkered history not be on the appropriate watch lists and how can someone like that be entirely at large in the community?" He said Australian authorities would be looking at those questions "in the days and weeks ahead."
THE MOTIVE
What we know: During the siege, Abbott said the hostage-taker "sought to cloak his actions with the symbolism of the (ISIS) death cult," referring to the terrorist group that has seized control of large areas of Iraq and Syria. According to his website and social media posts, Monis styled himself as a Muslim cleric, espousing extremist views.
After he settled in Australia, Monis "became sympathetic to what he perceived ... was the victimization of Muslims and Islamists around the world," his former lawyer Manny Conditsis told CNN. But his bigger cause, according to Conditsis, was lobbying the Australian government against sending troops to fight in wars on foreign soil like Afghanistan, where Monis said innocent women and children were being killed. Monis was "intensely conflicted and contradicted and inconsistent," Conditsis said.