GM halts deliveries to Russia
Willie Grace | 12/18/2014, 3:01 p.m. | Updated on 12/18/2014, 3:01 p.m.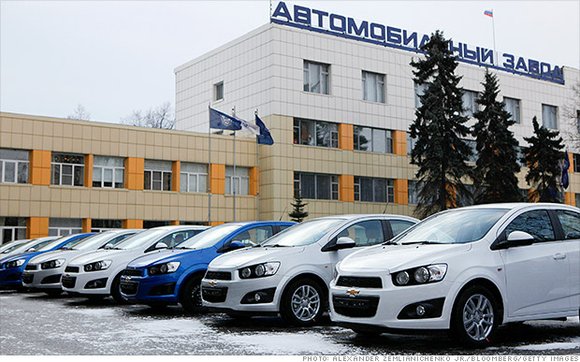 NEW YORK (CNNMoney) -- General Motors has halted deliveries of cars to Russia, making it the latest Western company to pull out of the market in the wake of the ruble's plunge.
The plunge in the value of the ruble means that Western companies don't get as much money when they convert the rubles they earn into their local currency. That can often mean a loss on the sale.
Russians who have already purchased cars will get deliveries at the agreed upon price, according to GM spokesman Sergey Lepnukhov.
GM sells more cars in Russia than any U.S. automaker, however the country makes up a relatively small portion of its global sales.
Overall it has sold about 170,000 cars under the Chevrolet, Opel and Cadillac brands in Russia in the first 11 months of the year, according to the Association of European Businesses, which tracks auto sales. That's less than GM sells in a single month in either the U.S. or China, its two largest markets.
Land Rover-Jaguar, owned by Indian automaker Tata, also has suspended sales in Russia through at least Friday. But most other automakers have stopped short of that drastic step.
BMW has been raising prices in Russia since the summer to adjust for the fall in value of the ruble.
"We're considering the situation on a minute-by-minute basis," said BMW spokeswoman Emily Begley.
A spokesman for Toyota also said it has no plans to halt sales in Russia, but will soon increase the cost of its cars there.
The largest foreign automaker in Russia is the partnership between Renault and Nissan. A spokesman for that alliance says it has no plans to suspend deliveries at this time.
Korean automaker Kia, which makes most of the cars it sells in Russia in the country, is also staying put. Most foreign automakers depend more selling imports in Russia.
Apple shut down its online store in Russia earlier this week, citing "extreme fluctuations" in the value of the currency. Swedish furniture maker Ikea has also halted sales through at least Saturday.
The decline in the price of oil, a major source of revenue for the Russian government, has sparked a plunge in the value of the ruble, causing it to lose nearly than half of its value versus the dollar.
For more information go to http://www.cnn.com