First Airbus A350 XWB delivered to Qatar Airways
Willie Grace | 12/22/2014, 6:51 p.m. | Updated on 12/22/2014, 6:51 p.m.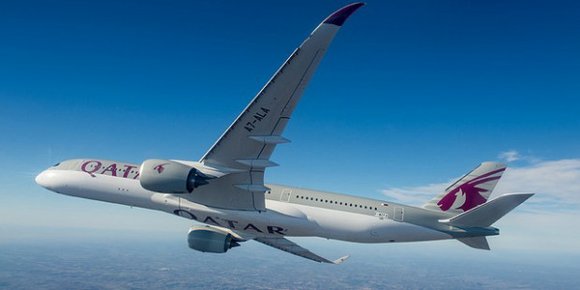 (CNN) -- The wait is finally over for aviation fanatics wanting to book a flight aboard the Airbus A350 XWB.
Qatar Airways, the global launch customer of the A350 XWB, accepted delivery of the commercial plane during a ceremony at Airbus' headquarters in Toulouse, France, on Monday morning.
"It is more than a great day for Airbus," the manufacturer's CEO, Fabrice Bregier, told a press conference. "I would say it was an historic day."
The "XWB" in the name means "extra wide body."
There are three different iterations of the plane being built: the A350-800, the A350-900 and the A350-1000, which seat 270, 314 and 350 passengers, respectively, in three-class seating.
Qatar Airways opted for a two-class, 283-seat configuration in its A350-900, offering 36 business class seats and 247 in economy class.
In total, the airline has ordered 80 of the airplanes -- 43 A350-900 jetliners and 37 of the longer-fuselage -1000 versions.
In a statement, the airline said it expects to induct the first eight production aircraft into its fleet before 2015 year-end.
Qatar Airways' new A350-900 will enter into commercial service in January, operating daily flights between its Hamad International Airport hub in Doha, Qatar and Frankfurt, Germany.
Minor turbulence delays delivery
Monday's A350 delivery ceremony was originally supposed to take place on December 12, but the airline canceled the event just a few days beforehand.
Neither side initially offered an explanation, leaving aviation analysts to speculate on what was behind the hold up.
Qatar Airlines CEO Akbar Al Baker told Monday's press conference that the delay was related to one of its suppliers and was not an issue with Airbus.
"It's important to note that the aircraft has been delivered to us one week ahead of schedule, not late," he said.
Delays are nothing new for Qatar Airways, which also postponed the delivery of three of its A380 superjumbos this year after Al Baker reportedly expressed concerns about the quality of the interior.
Airbus chief Bregier described Al Baker as a "tough customer... you are demanding, sometimes for us a bit too demanding."
He said Qatar's exacting standards had raised the quality of the final product and would make it easier to sell to other carriers.
Bregier also used Monday's event to try to draw a line under recent reports that it might pull the plug on A380 production after a fall off in orders.
He said such speculation was "just crazy... after all the efforts we have made."
"I can tell you the A380 will have a brighter future as the market gets bigger."
The A350's road to flight
The A350 XWB is the first in a family of super-efficient passenger planes Airbus designed to go head-to-head with rival Boeing's 787 Dreamliner and 777s.
The project for the new jet began in 2006 and was initially criticized by some in the industry, including airlines, for not really advancing the global aviation scene.
Being publicly lambasted by some of its largest customers -- one aviation executive called it a Band-Aid reaction to the 787 Dreamliner, while the CEO of Singapore Airlines said the plane just didn't go far enough -- the pressure was on for Airbus to come up with a game changing plane.