John McCain's next comeback
Willie Grace | 12/23/2014, 4:08 p.m. | Updated on 12/23/2014, 4:08 p.m.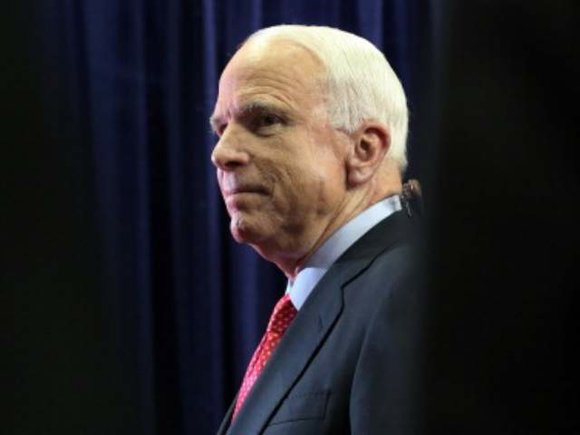 WASHINGTON (CNN) -- John McCain is still angry. But soon, he'll have power and an old enemy, President Barack Obama, is already in his sights.
In the latest redemptive twist of a career of political and personal ups and downs, the Arizona Republican senator will take on one of the most weighty jobs in Congress when the new Republican majority rolls into town next month.
As Chairman of the Senate Armed Services Committee, McCain will hold the White House to account for what he sees as a feckless foreign policy that has enabled "genocide" in Syria, left "evil" to fill a leadership vacuum elsewhere and splintered America's moral example around the world.
"History judges people by what is accomplished or is not accomplished, whether there has been victory or defeat, that is the ultimate judgment," McCain said when asked by CNN to rate Obama's record as a statesman. "I think you could argue that the world is vastly changed and it certainly is not to the benefit of democracy, freedom or America's role in the world."
McCain's new post is an unexpected coda for a turbulent life in which he was tortured as a Vietnam prisoner-of-war, emerged from a savings and loan scandal as a campaign finance champion and was a maverick who beat cancer and dubbed adoring reporters on his campaign bus his "base."
Now, from his perch on Armed Services, McCain will be back where he is happiest, where the political fight is at its most intense.
He has a chance to reshape his own legacy, and ensure that the last word on his political career is not two losing presidential campaigns and his pick of running mate Sarah Palin, who critics blasted as unqualified to be a heartbeat away from the presidency.
Top Obama aides will soon find themselves trooping up to Capitol Hill for inquisitions before his committee.
McCain is promising to use the power of the purse to force Obama's hand on key issues including Ukraine and Syria. McCain also wants to end sequester budget cuts he says are stifling the military and cost overruns that plague the Pentagon's procurement process.
He's planning to form a powerful triumvirate with Sen. Bob Corker, incoming chairman of the Senate Foreign Relations Committee and Sen. Richard Burr, the new head of the Intelligence Committee, to drive the foreign policy agenda.
Confrontation
He's planning to confront the White House on Syria, Ukraine, Iran nuclear talks, the struggle against ISIS and the President's decision to establish diplomatic ties with communist Cuba.
Republicans are also expected to use funding bills for government departments to constrain administration foreign policy in some areas and to target it in others, in effect daring Obama to veto wider bills that include elements he might oppose.
In the six years since Obama beat him in the presidential race, McCain has been seething from the sidelines, prompting some to caricature him as an "angry old man" squandering a reputation for heroism and integrity.