John McCain's next comeback
Willie Grace | 12/23/2014, 4:08 p.m. | Updated on 12/23/2014, 4:08 p.m.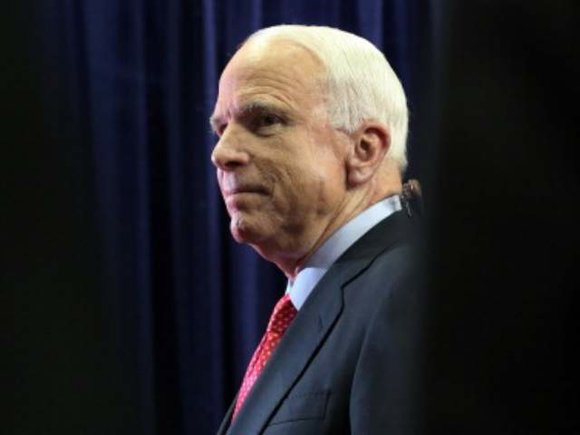 "It's too bad you can't answer straightforward questions, Mr. Blinken," McCain said in an interrogation which angered allies of the popular White House official.
McCain also lacerated Chuck Hagel, a fellow veteran of Vietnam and the Senate, who stumbled through a notorious confirmation hearing last year on the way to becoming Defense Secretary.
People who know McCain are not at all shocked he's still trading punches and not walking off into the Arizona sunset after a lifetime of service.
He often notes that his father and grandfather died soon after retirement and doesn't plan to make the same mistake.
"It doesn't surprise me at all. He has always been someone to run to the sound of the guns, and be in the arena where important decisions are being made," said Richard Fontaine, who worked for McCain for five years as a foreign policy adviser.
But at 78, and uncertain whether Republicans can hold their majority in 2016, there is a certain poignancy to McCain.
'Running out of time'
"I'm running out of time," he snapped last month, cutting off Kerry in a five minute Foreign Relations Committee Q&A, offering a metaphor for a career approaching its final act with much left to say and do.
There's also the question of his own Arizona Senate seat which tops the list for Tea Party insurgents looking for Republican scalps.
McCain says he's close to announcing a run for a sixth term in 2016 -- which would take him through to age 86 -- and expects a tough fight.
Former NATO ambassador Kurt Volker, who now runs Arizona State University's McCain Institute, says the senator is simply not done fighting.
"He has a strong sense of values and character," Volker said. "His book 'Character is Destiny' is all about how character determines a person and determines events. He continues to want to fight for what needs to be done. He is unrelenting."
That streak of idealism underpins some of McCain's most admired political achievements -- for example his role in normalizing diplomatic relations with Vietnam, which required an embrace of a nation which incarcerated him. It was on display again this month when, with the moral authority of a torture victim, he was a rare Republican to back a report outlining harsh interrogation methods.
"The truth is sometimes a hard pill to swallow," McCain said on the floor. "It sometimes causes us difficulties at home and abroad. It is sometimes used by our enemies in attempts to hurt us. But the American people are entitled to it nonetheless."
The speech won near universal praise, especially from liberals.
"Breathtaking," said Vice President Joe Biden. Daily Show host Jon Stewart quipped: "Good McCain" --- "I've missed you so much. I didn't think I would ever see you again."
McCain's intervention was a reminder that for all his talk of history ultimately only crediting winners, he may be remembered as much for how he fought for his beliefs as what he achieved.
Few people know McCain as well as Kerry, who endured another tongue lashing from his old sparring partner in November.
"I believe in John's adage that a fight not joined is a fight not enjoyed," Kerry said.
For more information http://www.cnn.com