Gunman Opens Fire At Movie Premiere In Atlanta
Willie Grace | 12/26/2014, 12:24 p.m. | Updated on 12/26/2014, 12:24 p.m.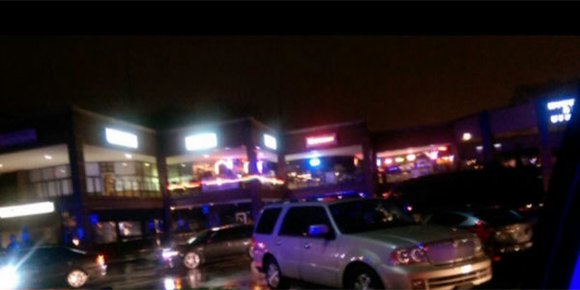 As though not enough drama has been surrounding movie theaters as of late thanks to the controversial release of Seth Rogen and Evan Goldberg's The Interview, now even more unfortunate news has come about. Reports are coming out of Atlanta that say a movie premiere event held last night in the Georgia city was interrupted when a man pulled out and fired a gun, resulting in two people being injured.
The Atlanta Journal-Constitution has the news, saying that the shooting occurred following a debut screening of the new independent comedy Finesse from writer/director/producer/actor/rapper Curtis Franklin (a.k.a. Al Nuke) .The incident resulted in a man being shot in the buttocks, and a woman's leg being grazed - but the good news is that both are in stable condition at a local hospital. A spokesperson for the Atlanta Police Department, Officer John Chafee, says that the situation began as a "verbal altercation" that escalated when one of the men involved pulled out a gun and started firing. One of the movie's stars, Corey Crum, described the scene to the newspaper, saying,
"We had a standing ovation, everybody was happy about the movie, but all of a sudden we go out into the concession and there were two shots. A dude left grabbing his leg, and somebody else was grabbing their side, and people were lying around crying and hollering. It was the craziest thing I've ever seen before in my life."
The shooter is still at large, and is currently being searched for by the police. Unfortunately, there is no description given of the man responsible. Hopefully someone at the theater was able to get a good look at the criminal and will provide police with the evidence and testimony they need to find and punish him for his crime.
This is a pretty scary story, and what's really unfortunate about it is that this isn't exactly new in this day and age. Reading about this crime is disturbingly reminiscent of the shooting that occurred in 2012 at midnight screenings of The Dark Knight Rises in Aurora, Colorado, and no movie-goer ever wants to be reminded of that horrific event. Cinemas are meant to be safe places where audiences can be transported off to different worlds for fantasy and drama, and when violence like this occurs in them there is a certain extra layer of horror to it.
For more information go to http://www.cinemablend.com