Into The Woods Movie Review
Willie Grace | 12/29/2014, 10:59 a.m. | Updated on 12/29/2014, 10:59 a.m.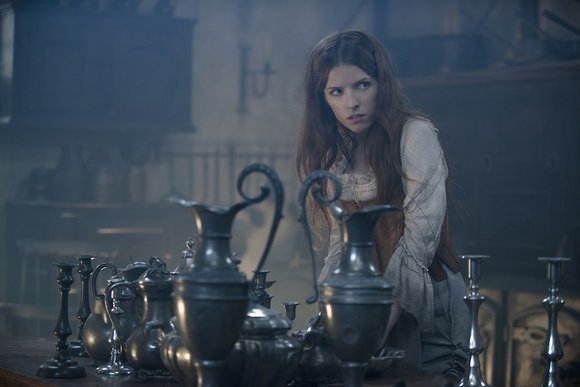 "Be careful what you wish for." It's not only the tag-line and main theme of Disney's Into The Woods, but also serves as a warning to fans of the much-beloved Stephen Sondheim Broadway musical on which its based. This is not the sexually fraught, wickedly violent, and dark re-imagining of classic stories that Sondheim envisioned. There's lots of fun to be had in this jaunty translation. But everything from its wolf to its final act has been tamed.
Meryl Streep leads a sprawling and star-studded ensemble as The Witch, whose curse plays at the center of this adventure. Revealing to a humble Baker (James Corden) and his wife (Emily Blunt) they are spellbound to be barren, the Witch sends them on a quest to lift the curse. This throws the pair in the way of Cinderella (Anna Kendrick), her Prince Charming (Chris Pine), Rapunzel (Mackenzie Mauzy), Red Riding Hood (Lilla Crawford), The Wolf (Johnny Depp), and Jack of beanstalk fame (Daniel Huttlestone). As their stories collide, each character's wish comes at a terrible cost. For fans of the Sondheim staging, the cost of a big-budget movie musical adaptation is much of the original narrative's mature content.
As we've long suspected, the casting of kids in the roles of Red and Jack has meant the willful stripping away of the sexual implications of their songs. This makes The Wolf's song "Hello Little Girl"--with its lyrics of "look at that flesh, pink and plump"--feel as out of place as Depp's bizarre Tex Avery cartoon-styled Wolf, with zoot suit and zig zag whiskers. Without getting into spoilers for those unfamiliar, I'll say a certain sexual indiscretion is played down. The body count in this version is arguably lower, and no death is captured onscreen. All the better to bring the kids to, my dear!
Loyalists to the original will bemoan these changes. But more frustrating is that without a foreknowledge of the plot, you might well miss that some key character deaths have even happened, so subtly is director Rob Marshall sliding them by. Still, there's lots of expositional dialogue in the final act to catch you up. So, you won't be lost by Into The Woods for too long.
Outside of these castrations, Marshall's Into The Woods does offer the kind of spectacle you'd expect from the helmer who brought us Chicago and Memoirs of a Geisha. The costumes and sets are sometimes opulent, sometimes dank, but always visually intriguing. There are exciting CG effects from a sky-high beanstalk to blustering winds, a vanishing witch, magical transformations, and giants. But the best bit of spectacle is simply Meryl. You can drape her is a stringy grey wig, cake her in claws, and ask her to rap. And still, Meryl Streep will be glorious. She brings an eager whimsy and glinting menace to The Witch, and her relishing of the Witch's power and panache is contagious. Once again, Streep is, on her own, worthy of the price of admission.