Avengers 2: New Photo Shows The Team Meeting Ultron For The First Time
Willie Grace | 12/30/2014, 6:09 p.m. | Updated on 12/30/2014, 6:09 p.m.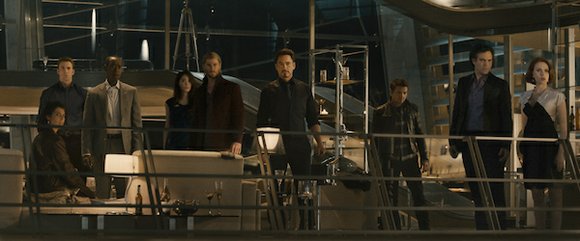 Joss Whedon's Avengers: Age of Ultron will soon re-assemble Earth's Mightiest Heroes on the big screen to do battle against one of Tony Stark's own creations: the villainous sentient robot Ultron. To tickle the team's return on May 1, 2015, Marvel has unveiled a new look at the film as these guys first lay eyes on this psychotic evil. Spoiler alert: they're pretty shocked.
Yeah, it's the same reaction we had on our faces when we first saw Ultron at Comic-Con!
In the photo, which we screengrabbed from Disney's big 2015 movie preview, we've got Robert Downey Jr. as Iron Man, Chris "Sexiest Man Alive" Hemsworth as Thor, Chris Evans as Captain America, Scarlett Johansson as Black Widow, Jeremy Renner as Hawkeye, Mark Ruffalo as Hulk, Cobie Smulders as Agent Maria Hill, Don Cheadle as War Machine, and...who is that standing behind our favorite Asgardian?
Just in case you haven't been keeping up to date on all the latest Age of Ultron happenings, this is Korean actress Kim Soo-Hyun. Her involvement was announced earlier this year, but nothing about her character has been revealed other than it's a substantial supporting role. The fact that she's seen in this scene, which is when Ultron stumbles in during a party at Stark Tower for the Avengers and their closest comrades in arms, seems to confirm that, yes, she'll have quite an important part to play. And should we presume anything based on the fact that she's standing particularly close to the God of Thunder?
A while ago, we heard from Joss Whedon himself that Avengers: Age of Ultron will have "four prominent female roles in the center of the movie." So far we know of Black Widow, the newly minted Scarlet Witch (Elizabeth Olsen) and Maria Hill. Captain Marvel has been rumored to make an appearance in this film before embarking on her standalone movie in 2018, but it's unlikely that she'll fill one of these "prominent" parts.
While we all speculate as to which comic book character Soo-Hyun might be playing, Avengers: Age of Ultron is already pretty packed. We've got James Spader voicing Ultron himself, and we know that he'll be the combined creation of Stark and Bruce Banner. From what we've seen in the trailers and concept art, he looks pretty badass and nothing like the Avengers have ever faced. But speaking of things they've never faced, we're also looking forward to seeing Paul Bettany's upgrade from J.A.R.V.I.S. to The Vision, and, of course, the twins: Scarlet Witch and Quicksilver. After first seeing them in the final moments of Captain America: The Winter Soldier, they have a still unclear vendetta against the Avengers and will be causing some trouble. While Quicksilver can move faster than Thor can sling his hammer, his magically inclined sis can get inside the heroes heads, which is not a good thing when you have a nearly indestructible, berserker Hulk on your team.
For more information go to http://www.cinemablend.com