Volkswagen runs away with World Rally Championship in 2014
Willie Grace | 12/31/2014, 7:57 p.m. | Updated on 12/31/2014, 7:57 p.m.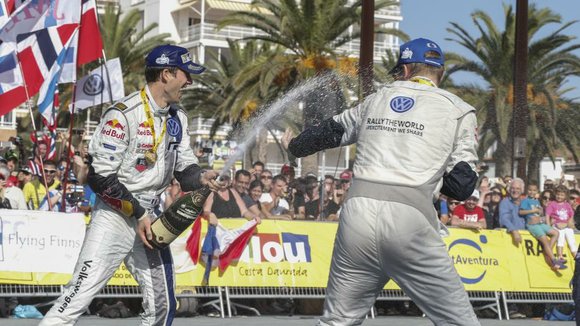 In the same way Mercedes dominated Formula One in 2014, Volkswagen wiped the floor with everyone in the World Rally Championship. And similar to F1 (where only Infiniti Red Bull Racing disrupted Mercedes' march three times), only one other manufacturer won a single round in this year's WRC—Hyundai in Germany—and even then only because the VWs crashed.
Look at the numbers, and it gets scarier for the opposition: VW's 12 wins broke Citroën's previous 11-win, single-season record and tied the record number of
one-two finishes in a season (eight) Peugeot set in 2002. VW also wrapped up the manufacturers' championship at the earliest point in the season in 25 years (September's Rally Australia) and became only the second manufacturer to claim the top three places in the drivers' championship (after Lancia in 1987 and 1988). This year there were 249 special stages: A VW Polo won 197.
But that doesn't mean champ Sébastien Ogier had it too easy. The 30-year-old Frenchman (he turned 31 on Dec. 17) admitted his second title was more difficult to win and more satisfying than his first in 2013, largely down to his Finnish teammate Jari-Matti Latvala's improvement. Latvala came closer than most people imagine to clinching the title.
The turning point was probably the remarkable Rally Germany—the only one VW did not win. Ogier had not one but two crashes; the second meant he got to try lunch in a German hospital.
An unbelievable series of events unfolded. Latvala inherited the lead and went off; Citroën's Kris Meeke then took the lead and went off, while the fledgling Hyundai team finished first and second. Germany was the year's most extraordinary event.
But not for Latvala. With a comfortable margin on the field, there was no reason for him to crash while leading on the final day. Afterward, he was so frustrated, he was spotted curled up on the ground in the fetal position. Indeed, he knew he had just missed out on the chance to turn the tide. Having won three rallies and claimed two other podiums up to that point, Latvala could have closed Ogier's championship gap to a manageable level—and gained the momentum heading into Rally Australia, where he eventually finished just six seconds behind his teammate.
Latvala then won in France after Ogier hit problems; what had first seemed like a healthy points buffer for the Frenchman came close to crashing down around his ears.
Even accounting for a few indiscretions, Latvala still managed to take the fight for the drivers' championship right down to Spain's penultimate round—a sign of how close the battle was. But Latvala is the first to admit he must take risks in order to beat Ogier. Sometimes those risks don't quite work out.
VW's junior driver, Andreas Mikkelsen, also took risks to beat Ogier when he was let off the leash at the end of the year: crashing from the second stage on Rally Great Britain. In fairness, this was only the 25-year-old's second retirement of the year, and he did net third in the championship, having always been in the top seven in events he finished.
For more information go to http://www.autoweek.com