Local activist helps kids worldwide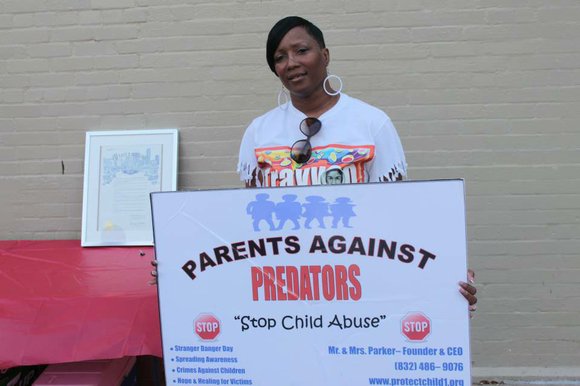 A recent search for a missing autistic boy ended sadly when his remains were found in the East River, a body of water near Queens, New York. The mother of Avonte Oquendo has already filed a negligence claim against the city.

Sonia Parker, president and founder of the organization Parents Against Predators, helps families heal from situations like these- if not avoid them altogether.
"He can't communicate," said Parker of Oquendo. "It's just a sad situation."
Parker, who is the wife of a military veteran, got the idea to the start the Parents Against Predators organization upon her return from Germany in 2009. She said it was then that she realized how much children all over the world are suffering from abuse that can turn deadly.
"There's so much going on," she said. "There are so many kids (getting hurt). And you don't know who is next."
Parents Against Predators holds awareness workshops to help spread knowledge of how to recognize and end different types of abuse. And this organization goes a step further than most by addressing the damage that happens after abuse has caused irreversible harm.
"We do two big balloon releases for the murdered children," said Parker.
Parker's organization also holds a special Mother's Day event for the parents of missing and murdered children. "Missing kids' parents," she said. "Nobody thinks about them."
The organization collaborates with several other programs in the Houston area in order to reach out to kids. "We kind of teamed up," said Jay Barnett of the Men of Excellence Project (The ME Project), "informing parents and adults on different things a lot of them are unaware of."
Both Barnett and Parker have their own personal reasons for reaching out to the youth. Parker is passionate about helping youth since she was the victim of abuse. "I experienced sexual abuse," said Parker. "I was molested at an early age." While Barnett said he believes that what he experienced in the past can help others better their future. "I struggled real hard through my adolescent years," he said. "I didn't have a sense of identity. I fell into a deep depression. I struggled with suicide."
Barnett and Parker channeled the strength that they developed through their struggles to create the "Women's Empowerment Project (The WE Project) Ceremony." The ceremony, which was geared towards the empowerment of young women, was held on Dec. 19 and had more than 40 participants. "Parents were able to come see the kids graduate from the program," said Barnett. "We presented awareness for her program. We talked about things that she (Parker) does in the community."
In addition to teaming up with Barnett, Parker uses celebrities to help her get the attention of children and parents. "I team up with a lot of the rap artists here (Houston)," she said. Rappers Slim Thug and Paul Wall and jeweler Johnny Dang are all people who Parker said contributes to Parents Against Predators. Support from the community is important to the organization, because that's the only way it can survive. "We do all this without funding," she said. "We don't get grant money. We don't get money from the state."
Parker's organization has been recognized by KHOU 11 News and FOX 26 News for its works in the community, but it continues to create a buzz for itself through partnership with others.
The next goal for Parents Against Predators is to gain more recognition for children who have died from abuse. Parker plans to do that through working with a local park. "My goal this year is to find a spot and put an "angels' wall" with murdered children's names," she said. "I fight for all kids."
Find ways to support Sonia Parker and Parents Against Predators by visiting them online at http://www.protectchild1.org/15.html