Smoothie King Center unveiled to host NBA All-Star game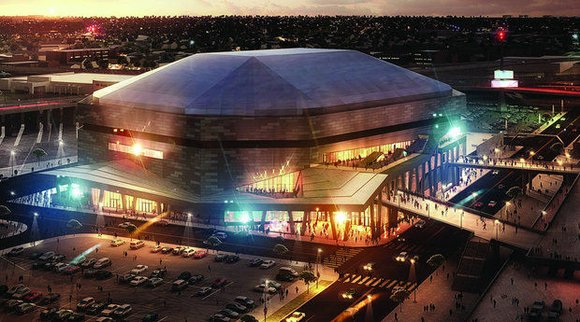 New Orleans Pelicans owner Tom Benson and Smoothie King owner Wan Kim announced today a multiyear agreement reached between the Pelicans and Smoothie King to rename the New Orleans Arena the "Smoothie King Center," according to a company press release.
"Smoothie King and the NBA are a perfect fit," Smoothie King CEO Wan Kim said in the announcement. "Both organizations are global brands that continue to grow in status and stature. Smoothie King supports the NBA and the New Orleans Pelicans franchise, and we think this partnership reflects our joint interests in nutrition, health and athletics from an international to a local perspective."
The naming rights agreement between the Pelicans, the State of Louisiana and Smoothie King is for 10 years. A new Smoothie King Center logo will adorn the roof of the building, and the new Smoothie King Center name and logo will appear on the facility's exterior façade, on the Pelicans home basketball court, the team's scoreboard and in numerous locations throughout the facility, according to the release.
The Smoothie King Center will also feature visuals that reinforce the brand's new purpose-driven positioning. Fans will see messages encouraging them to "Feel Taller" and "Get More Jump in Your Game" with Smoothie King's Energy and Fitness blends.
Introducing the home court as the Smoothie King Center was one of the goals Benson, the team's owner and chairman of the board, set when he purchased the team, Benson said. "They are an international brand with more than 600 locations in the United States and Asia and they have experienced that growth while remaining local. The NBA, Smoothie King and the Pelicans are committed to excellence on and off the court."
New Orleans Mayor Mitch Landrieu said, "We are thrilled to have a hometown company supporting both the New Orleans Pelicans and one of our premier event facilities. This exciting partnership with Smoothie King will help promote the ongoing events we welcome to our city every month starting with the upcoming 2014 NBA All-Star Game."
This story originally appeared on Fast Casual.com