The twin towers: The Phelps brothers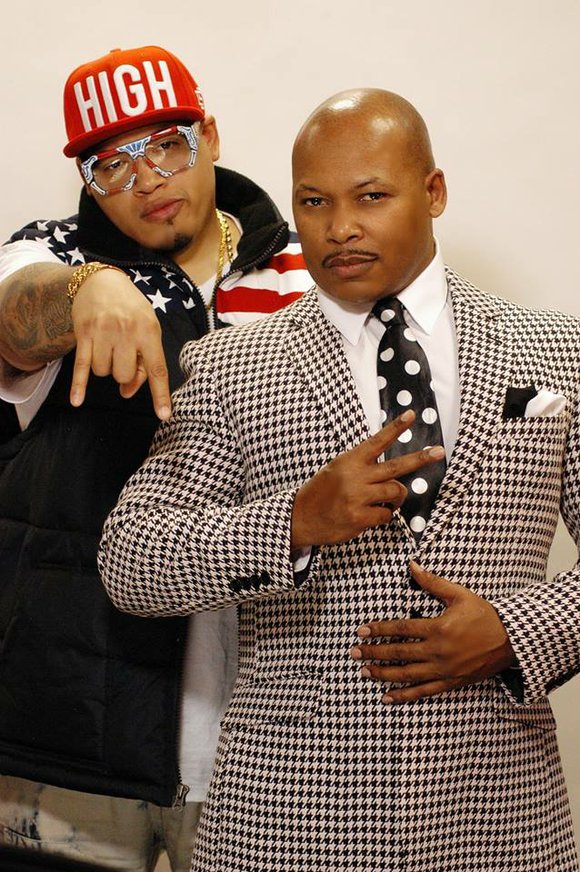 Ferrell also has a talk show titled, "Let's talk about it", that emphasizes issues and progressive topic discussions on current affairs. He recently interviewed, Sharnelle Brown, aka Kim Reese from, A Different World, a spin-off series from, The Cosby Show during the 80's-90's. Ferrell enjoys creating portraits that matter, so much, he published a book, "In My Life Time" in honor of President Obama. Thanks to Houston native, Yolanda Adams, one of the most influential gospel singers in the world, Ferrell was able to get his book to the White House book shelves.
In the future, Ferrell can see himself producing short films & continuing to build a museum (or collection) of professional & artistic photos that he has collected throughout his years as a photographer.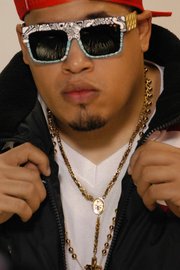 Take 2: George "Golden Boy" Phelps
Referenced as "the cool & hip one" by his brother Ferrell, George "Golden Boy" Phelps, is a focused & strongly driven to impact the hip hop community with his artistic vibe. Golden Boy always knew he was destined for success, but, before he could truly understand his value, he turned to the streets for a short second. On one occasion he met an older inmate and he then had an opportunity to share his vision & concepts of Sky Trues eyewear. The older man simply told him, "If it sounds crazy, it's a hit". Golden Boy is an abstract painter. He paints on canvas and of course eyewear. He also has done paintings for his local church. He explained that his artistic vision of what he paints usually came once he applies his first stoke of color onto the eyewear. He also does custom artwork based on the buyer's request.
Golden Boy made his first sale when a young man approached him and admired the pair of eyeglasses that he was actually wearing. The young man actually purchased that pair for $40.00. That initial sale gave him the motivation that he needed to launch Sky Trues. Eventually he started attending local fashion shows, the International Festival & one of the biggest bi-annually community based event, the H-Town Sneaker Summit.
Golden Boy believes in being "Live at 5" which to him means rising to the occasion & being ready to show the world that you have what it takes to influence the masses. He has designed eyewear for Rich "Homie" Quan, who gave a personal shout out to Sky Trues during his performance here in Houston. Golden Boy has also had major success by designing eyewear for newest cast member of R&B Divas of Atlanta- Latavia Robertson, Young Dro, Bun B, Love & Hip Hop TV personality-Erica Dixon, stylist Ryan Christopher, Diamond from Crime Mob, T-Wayne, Wacka Flacka & many more. Golden Boy was able to get a pair of Sky Trues to Big Sean at an Addidas event in Willowbrook Mall, thanks to a fan by the name of Shirley Webb.
Golden Boy joined Scarface & Faith Evans on a regional tour as a rapper which helped him build his network of fans. He has a feature on the well-known R&B group, H-Town's, project. Golden Boy's mixtape will be dropping soon, produced by Big Q of Dah Ent. & with the help of DJ Deftone from Miami Dade County, he was able to get major collaborations. On his current mixtape titled, "Guns & Roses" he sold over 7600 copies. There's even more to Golden Boy's enterprise, like his brother, he is dibbling & dabbling in short films. His first directorial short film, "Night Call" was recorded by Kool films & can be found on a Eurochannel called DailyMotion. Golden Boy looks forward to tying all his trades (eyewear, music & painting) into a cool event he will be hosting, called the 3 headed monster party in March. He mentioned that his assistant Celeste Young had done an outstanding job with Sky Trues. If you plan on attending SXSW in Austin, TX during the music portion, you can spot him wearing Sky Trues.
The Phelps brothers have teamed up on a very major project that could assist in drawing focus on Houston's entertainment industry. There are major happenings in the works, stay tuned!
For more information on Ferrell Phelps visit:
www.ferrellphelps.com
Follow on Twitter: @Ferrellsphotos
Like on Facebook: Ferrell Phelps
Interested in sitting-in on Ferrell Phelps talk show, "Let's talk about it"? Subscribe to his YouTube channel: Ferrell Phelps
Purchase your own custom-ordered SkyTrues by George "Golden Boy" Phelps by visiting:
http://www.storenvy.com/stores/259543-skytrues
Follow on twitter: @SkyTrues
Like on Facebook: SkyTrues
Follow on Instagram: @SkyTrue