Ski New Mexico It Was More Than I Could Ever Imagine
Rebecca Briscoe | 2/13/2014, 12:33 p.m. | Updated on 2/13/2014, 12:33 p.m.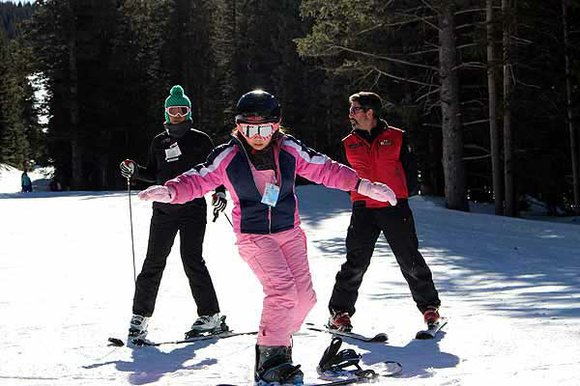 When I had the opportunity to visit Ski New Mexico last year, I immediately declined. What was a sista going to do freezing in the Southwest without a glam squad! You know in the South, black people don't ski or so I have heard!!! This year I wanted to embark on something epic and "grab the bulls by the horns." I felt that it was my duty as an African American female to immediately dispel the rumors of what we do or don't do during these winter months. Like Nike says, "Just Do It" was the quote I lived by during my fascinating journey to New Mexico. This weeklong trip was an experience of a lifetime where I was able to renew my mind, body and soul both on and off the slopes.
Ski Santa Fe Ski Santa Fe was probably the best slope of the trip, and it wasn't because my ski instructor was totally hot and looked like Burt Reynolds. The snow was slushy, azure blue skies, and beautiful winter sunrays to match. Ski Santa Fe is nestled high in the beautiful Sangre de Cristo Mountains just 16 miles from the heart of historic Santa Fe, New Mexico. With a base area elevation of 10,350 feet, Ski Santa Fe is among the highest ski areas in the continental United States. Ski Santa Fe is perfect for the first timer because the flat slopes and first-rate instructors make getting out on the slopes fun and a fitness experience like no other.
Red River Ski Resort No excuses!!! It was definitely the inauguration of the Black Girls Ski Day. Facing your fear is the only way to rise up to the challenge. I went to my very first ski lodge with winter gear of two pairs of long johns, ski suit, thick socks, and tons of nervousness and pounds of anxiety on my shoulders. 'Am I really meant to be a snow bunny or just pose for the camera' I continuously thought. Bob "Cat" Koontz, my ski instructor, came out to save the day. He taught me how to wear and walk in my rented ski boots. Then the moment of truth came when I placed the skis on one by one; CLICK. I made it like a scared kid on the first day of kindergarten. Bob took me under his wing and did it with his tireless motivation, encouraging words and most of all patience. He taught me how to wedge, ride the snow carpet, and stop. Taos Ski Valley Resort
One of the trickiest ski slopes in New Mexico, it had steep slopes, snow and some of the iciest ice on the Taos Ski Valley. Thanks to my faithful instructor Teri I learned how to turn while looking right to left. It's like the skis moved by osmosis after that class. The Tao Ski Valley Lodge has been part of the Blake family for over fifty years. After finding his dream spot in the 1950's in the "big snow basin north of Wheeler Peak in La Cal Basin", he moved his family to the Taos Ski Valley Resort in 1955. From a camper in the base area where they lived, the Blakes began to build what is now a world-class ski resort.
When you think of Ski New Mexico, say no more because you will embark on a tranquil environment both on and off the slopes. You will enjoy the beautiful sunshine, unbelievable mountain ranges, and authentic New Mexico cuisine. While on "Destination Ski," I didn't feel like an outcast because of my skin color, but proud of what I became which is an open minded, fearless risk taker.