Welcome to the C.I.T.Y.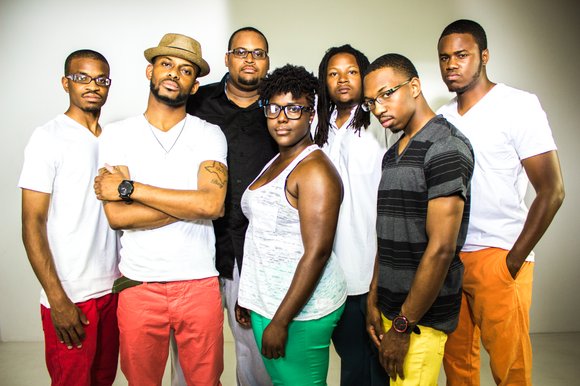 As I take a walk down Houston's eclectic musical lane, to my recollection, their are not many local bands that will step down from the stage to line-dance with you. The C.I.T.Y. which stands for Completely In Tune with Yourself, is a moveable-funky- jiving-machine-kind-of-a-band. The band members are Ryan "RaShard" Knight (vocalist & band leader), Deric "Dero" Anderson (lead guitar) and D'Andre "QuickSticks" Gosey (drummer/musical director), the group's founders, along  with Camisha "Killa Cam" Ruffin (bass), Charles "C-Note" Thomas (sax), Richard "King Richard" Owens (trombone), & Jerell "BIG Keys" Robinson (keyboard).
There is no specific genre these young & vibrant guys cannot touch! From Bruno Mars to Marvin Gaye, from collaborating with rapper Short Dawg to their own written R&B material, these guys bring a new edge to the live band scene. Not to make mention, these guys are Youtube sensations! You can catch a few of The C.I.T.Y. band members with Phil Wade, comedian & artist, in his famed jam sessions. In September 2013, The C.I.T.Y. dropped a mixtape titled, "#STAYTUNED"; They brought the W (win). As expected, their mixtape is filled with a whole lot of nice rifts & grooves. My all time favorite song by The C.I.T.Y. is "Pretty Girls", I can't tell you how happy this song made the mixtape cut & the other 19,500 or so viewers on Youtube. The C.I.T.Y. like any other group has been through many transitions & dynamics but they have prevailed & persevered.
The C.I.T.Y. had a chance to rock with one of the coolest & most delicious food trailers in Austin, TX, Ms. P's Electric on last year during SXSW on one of the busiest streets, South Congress, Ave.They was able to attract over hundreds of music lovers to come & party with them. There was a lot of dancing & laughter which makes for a great time! After such a successful time during SXSW, they was able to re-visit Austin for another round of fun-live music to the Texas Relay crowd.
Now, The C.I.T.Y. plans to make that trip up Highway 290 once more during the SXSW festival to show their fans & music-lovers what they are all about! The band is in need of monetary contributions to get to Austin, TX. When you hashtag GNTSXSW & #WEDONTPERFORMWEPARTY on your favorite social media site after placing your donation, you will be entered for a chance to win an exclusive "WELCOME TO THE C.I.T.Y." package!
For more details, visit:
Twitter: @_TheCITY
Youtube: GETNTUNETV
Facebook: Heartofthecitylive