Sochi 2014: 'Icebird' Jana Pittman still chasing her Olympic dream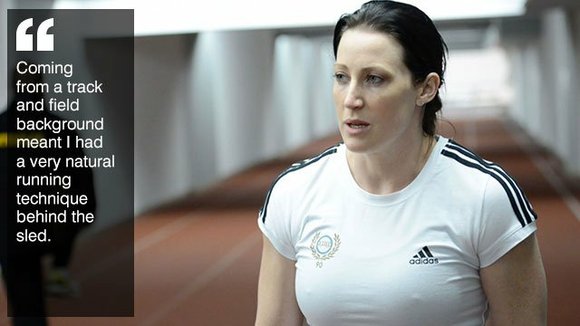 By Paul Gittings and Olivia Yasukawa
CNN
Jana Pittman was the woman to beat in track and field's 400-meter hurdles for nearly a decade, only to suffer crushing disappointment as a string of injuries wrecked her chances of Olympic gold.
It must have been tempting to step out of the sporting limelight -- but Pittman did exactly the opposite.
Instead she took up the white knuckle sport of bobsleigh, and is making Olympic history in Sochi by becoming the first Australian woman to compete in both the Summer and now Winter Games.
Less than 18 months after her first "terrifying" run on an ice course, Pittman says she is "extraordinarily lucky" to be part of a team in the two-woman event with experienced driver Astrid Radjenovic.
Despite being hampered by a lack of funding, and having to replicate the all-important start in bobsleigh by pushing a converted supermarket trolley around her local running track, Pittman is relishing the new challenge after the end of her athletics career.
"I wasn't quite sure what sport, so I pretty much tried everything," she tells CNN's Human to Hero series.
"I tried rowing, I tried boxing and then I got a wonderful call from Astrid to say would I be interested in trying to do bobsled, and pretty much it went from there,"
A world champion on the track in 2003 and 2007, Pittman carried the hopes of all Australia going into the Athens and Beijing Olympics the following years -- only for her dreams to be shattered.
The final blow came during 2012 when injury again scuppered her chances of competing in the London Olympics.
The 31-year-old went into this month's Sochi Winter Games with a realistic view of her chances, free from the previous pressure of expectation.
"I think I want to stop and smell the roses. To actually feel what the spirit of the Games is like," she says.
"Other times it sped past with huge expectations on results. This time I got to share it with my friend Astrid and to be part of a small but successful Australian team.
"It has been wonderful. Better than expected, I think this time around I get to really take it in and appreciate the moment."
Not that the competitive fire which spurred on Pittman as she dominated her discipline on the track was ever extinguished.
She put herself through a rigorous training regime and bulked up, adding over 10 kg in weight from her hurdling days.
"In an ideal world in bobsled, you want two massive women. This is the sport where everybody gets happy if you've put on a kilo, rather than "Oooh I've lost a bit of weight!" she explains.
"It's all about power and speed. You have to run 15 meters, 20, sometimes 30 meters, jump in the sled, and the start really sets you up for the whole run down to the bottom.
"So coming from a track and field background meant I'd lifted weights since I was 15 and I had a very natural running technique behind the sled."